Eggnog became tied to the holidays around the 1700s. American colonies were full of farms—and chickens and cows—and cheaper rum. Spices were expensive. Originally, In Britain, the drink was originally popular among the aristocracy. "Milk, eggs, and sherry were foods of the wealthy, so eggnog was often used in toasts to prosperity and good health."
I am not a fan of eggnog, it is too rich and sweet for me. However, it is a great ingredient that adds the right amount of richness for muffins and cakes and makes them moist and flavorful.
So what about some eggnog muffins for your Christmas breakfast this year?
[convertkit form=5225962]
This is a simple but festive muffin recipe. They are rich and filling, perfect for the holiday season with the pretty icing adding a festive touch! Actually, I thought next time instead of baking 12 large muffins, I will divide the batter up into 24 smaller ones, there is always so much to eat during the holidays that small muffins will be enough. They are great to be frozen ahead of time for Christmas breakfast.
I made it with whole wheat, but you can use all purpose flour only and they will be less dense, lighter. Feel free to add some golden raisins, cranberries or apricots (3/4 cup).
Eggnog festive muffins 
1 3/4 cup all-purpose flour
1 cup whole wheat flour or all purpose flour
1 tbs baking powder
1 tsp salt
3/4 tsp ground nutmeg
1/2 tsp ground cinnamon
1 cup granulated sugar
2/3 cup vegetable oil or shortening (I used shortening)
2 eggs
1 1/4 cup eggnog
Glaze
1/2 cup eggnog
1/4 tsp nutmeg
1 to 1 1/2 cup icing sugar
Pre heat oven to 350F.
In a small bowl, mix flour, baking powder, salt, nutmeg, and cinnamon together. Set aside.
In mixing bowl, beat shortening with granulated sugar until blended and add eggs, one by one. Slowly add in flour mixture and eggnog.
Lightly spray 12 or 24 muffin cups with baking spray and scoop batter 1/2 full. Bake for 13-15 minutes. Cool completely.
For the icing whisk together eggnog, nutmeg, and icing sugar. Drizzle the glaze on top of the muffins and allow to set (about 15 minutes).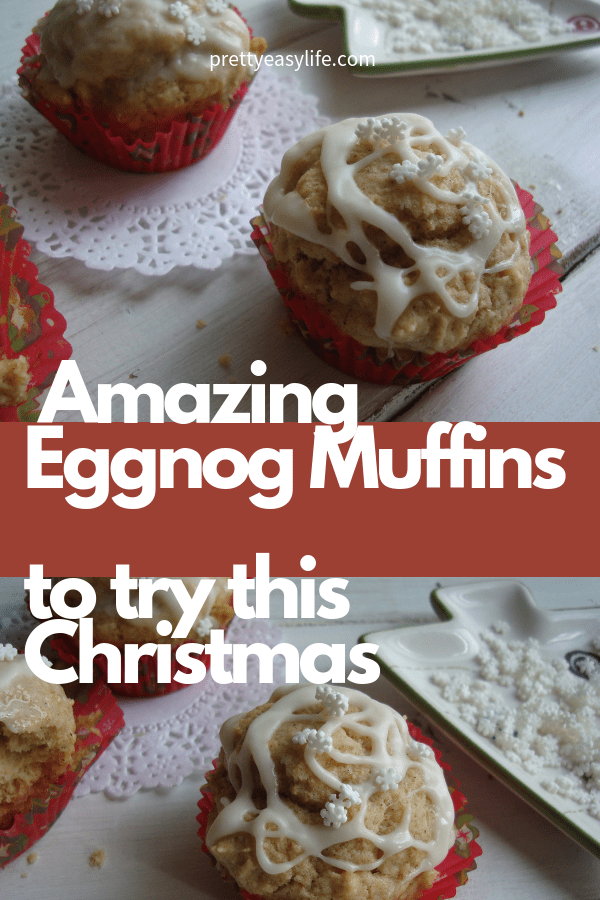 [pt_view id="177620cclo"]