Pretty, easy, scrumptious, indulgent, festive and decadent! My ever favourite cookies that I could eat all year around. I save it for Christmas though and has become one of our family traditional cookies for the holidays. There is something magic about crackle cookies, the white sugar against the chocolate cracks makes it so inviting to eat! As most cookies they have to rest in the fridge for a couple of hours, plan accordingly.
Now to the recipe because everybody is too busy this time of the year to be reading long postings.
I got this recipe from The hungry artist blog, who has adapted it from Martha Stewart, by halving it, which worked just fine for my needs. But if you are crazy for chocolate you might have to double it.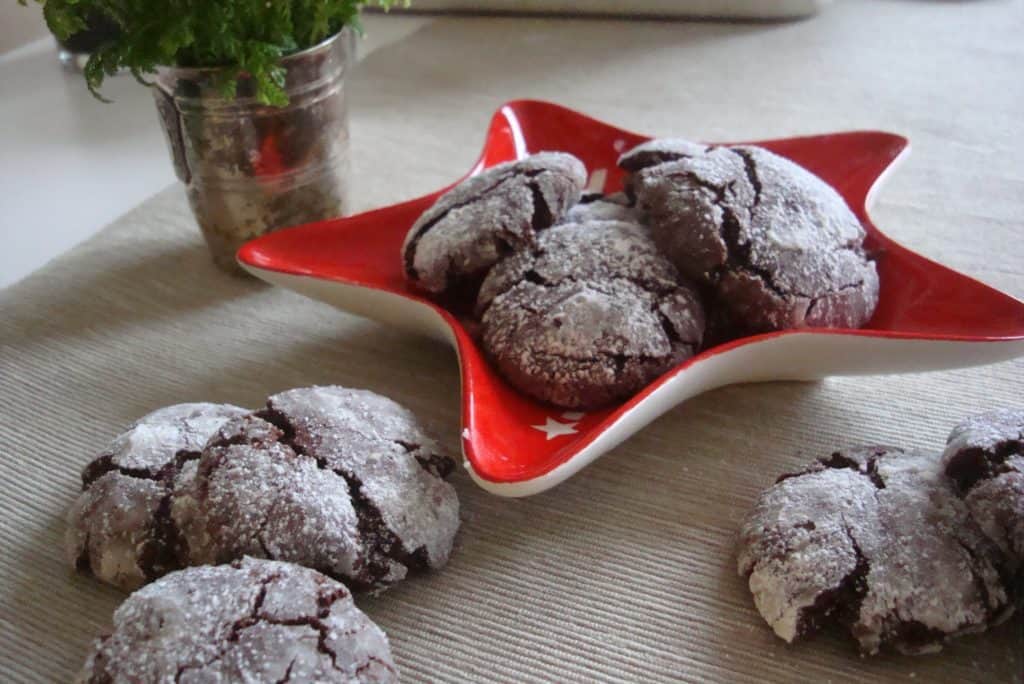 Christmas chocolate Crackles cookies
4 ounces bittersweet chocolate, finely chopped
3/4 cups all purpose flour
1/4 cup unsweetened cocoa powder
2 tsp baking powder
1/4 tsp salt
1/4 cup butter at room temperature
3/4 cups packed light brown sugar
1 large egg
1/2 tsp vanilla extract
3 tbs milk
For coating the cookies
1/2 cup granulated sugar
1/2 cup icing sugar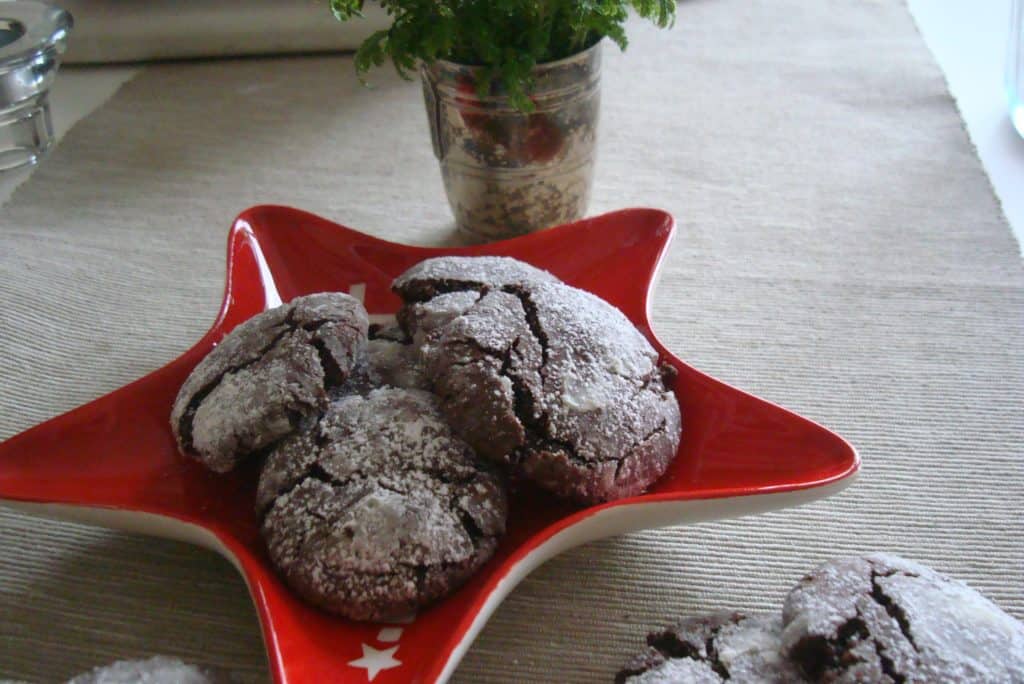 Melt chocolate in a heatproof bowl set over a pan of simmering water, stirring. Set aside and let it cool.
Sift together flour, cocoa powder, baking powder, and salt in a bowl.
With an electric mixer, beat butter and brown sugar on medium speed until pale and fluffy. Mix in eggs and vanilla, and then the melted chocolate. Reduce speed to low; mix in flour mixture in two batches, alternating with the milk. Divide dough into two equal pieces. Wrap each in plastic; refrigerate until firm, about 2 hours.
Preheat oven to 350 F.
Divide each piece into sixteen 1-inch balls. Roll in granulated sugar to coat, then in icing sugar to coat one more time. Space 2 inches apart on baking sheets lined with parchment paper.
Bake until surfaces crack, about 14 minutes, rotating sheets halfway through. Let cool on sheets on wire racks. Cookies can be stored between layers of parchment in airtight containers at room temperature up to 3 days.