3 Ingredient Avocado Keto Dessert
Updated: October 2020
It still blows my mind to see the avocado rise & shine moment in North America for the last years. I grew up having a huge avocado tree in front of our house, generously feeding us along the many years we lived there.
It was there when we moved in that house, I was 4 years old and it is still there last time I checked, last year. Strong, tall, opulent, this beautiful avocado tree watched our family grow up.
The avocados were huge, buttery and abundant, a cheap and easy dessert, a true avocado keto dessert.
There are some Affiliates links in this post, including Amazon Affiliates. I may receive commissions for purchases made through them. Learn about our Privacy Policy here.
In Brazil, back then, avocados were eaten as a dessert, never included in savoury dishes. In our home all desserts after lunch were always some kind of fruit and avocado was on the menu at least once a week.
My dad would prepare: mashed avocado, sprinkled with sugar and a good splash of fresh lemon. To this day is one of my favourite ways to eat avocado, as you can guess.
Occasionally he would go fancy and our avocado dessert would turn into this creamy and lush cream, blended with milk, sugar and lemon.
There are some Amazon affiliate links and I may receive commissions for purchases made through links in this post. Learn about our Privacy Police here.
To this day is a treat for me. As dessert, is pure comfort and yumminess. Healthy and light and extremely filling, 1/2 cup makes it just right amount if you're watching your calories intake and it is ready in 5 minutes.
It is a great way to incorporate more avocado to your Keto Diet, if you are into it, just substitute milk for coconut milk.
This Avocado Keto dessert has to be done right at the time of serving or the avocado will change colour. If you're a Keto Diet beginner, make sure to get the size portion accordingly.
3 Ingredient Keto Avocado Cream Dessert
4 portions (1/2 cup each)
1 1/2 avocados*
1/2 cup of milk (soy milk will work too) or coconut milk for Keto Diet
2 tbs sugar, honey or 2 1/2 tsp Stevia sweetner
1 to 2 tsp lemon juice
Cut the avocados, remove the seed and spoon it our of the skin. A great gadget for cutting avocados is this avocado slicer . Mix everything well in a blender. Cool a bit in the fridge if you can wait, covered with plastic film on top of the cream. Serve immediately.
*There are different types of avocado, the recipe above uses the Hass avocado (High-fat flesh, a nutty taste, and almond butter texture make the Hass both the classic West Coast avocado and a favorite worldwide. Its oil content can be 20 percent or higher, and its skin is tough and durable for shipping).
Keto Avocado Cream dessert variation – with ice cream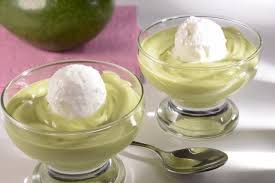 This variation of the Keto Avocado cream will become a hit if you're aiming for a keto dessert to impress your guests. Just add a rich creamy vanilla ice cream before serving.
My favourite though is to serve with lemon ice cream, or lemon sorbet.
Are you into Keto?
You might find this guide very useful: If you want to eat keto but don't have a second to think about planning, cooking, or even choosing meals this is the guide you need to decide about which service will be right for you. It'll make your life so much easier and you won't have to give up on your Keto life style.
Other Healthy Recipes you will love: