Gnocchi may seem difficult to make if it is your first time. But believe me, it is not. Specially if you are not feeding a big crowd, it takes around 45 min to prepare this recipe of Sweet potato gnocchi that yelds 6 – 8 portions. Soft and light, the secret is holding on the flour when handling the dough. Too much flour and gnocchi will be too hard, use only enough to handle the dough.If you are a vegetarian that's the entrée for any occasion, if you are not, add some grilled chicken or fish and make the sweet potato gnocchi as your good and healthy carb side, as I did. For better results with the texture, bake the sweet potatoes and then mash it, instead of boiling them. For mashing potatoes, have you tried this amazing tool?
There are some Amazon affiliate links and I may receive commissions for purchases made through links in this post. Learn about our Privacy Police here.
[convertkit form=5225962]
Pure comfort, this sweet potato gnocchi has a firm but light texture, with a very subtle sweetness that goes perfectly with the mushroom sauce. Best part is to know that is healthy, it is definitely a fall favourite dinner, pure comfort.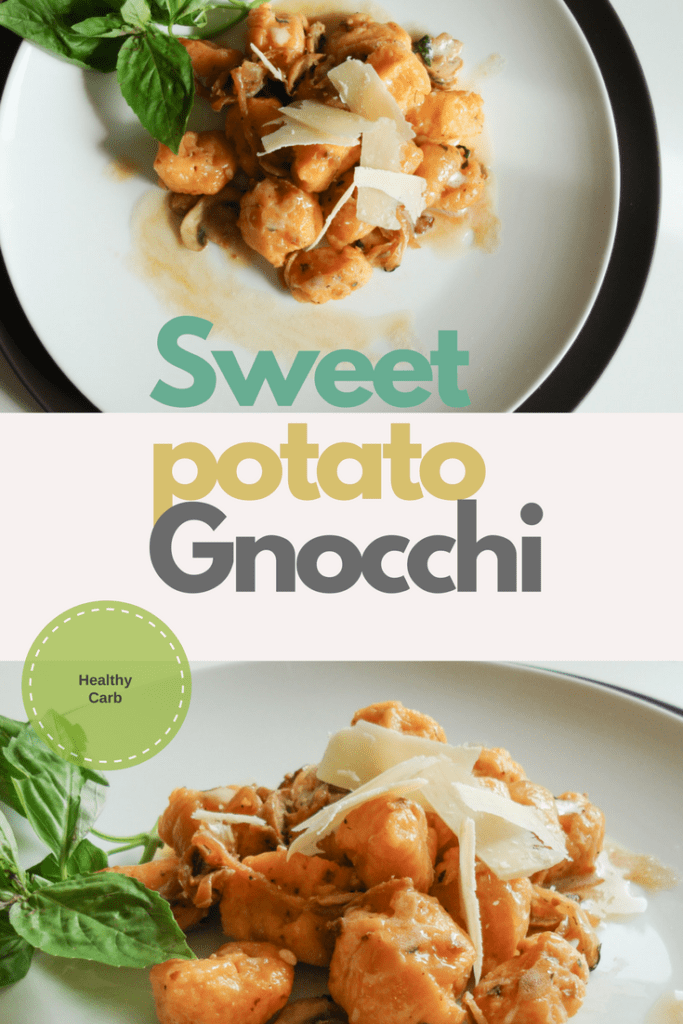 Sweet potato gnocchi with mushroom sauce
For the sauce
1/4 cup butter 1 onion thinly sliced 8 oz (225 g) care mini mushrooms thinly sliced 4 cloves of garlic 1 tsp fresh chopped thyme or basil 3 tbs fresh chopped parsley 1/2 tsp salt pinch nutmeg.
For the gnocchi
2 cups puréed cooked peeled sweet potato (about 2)
1 egg
1 tsp salt
pinch nutmeg
2 1/2 cup all purpose flour
Start with the sweet potato gnocchi: in large bowl combine together sweet potato, egg, salt and nutmeg. Using wooden spoon, stir 2 cups of flour and slowly work your way on adding the remaining flour. The dough will be soft and sticky, pulling away from the sides of the bowl but still sticking to spoon and fingers.
Important: Resist the temptation of adding extra flour.
On well floured surface and floured hands, roll dough into log, divide into quarters. Gently roll and shape each quarter into 3/4″ (2cm) diameter rope. Cut each rope with a sharp knife, into 1/4″ pieces. The dough is soft and the pieces will not have the same shape, but do the best you can. I really think I could have done a better job. In a large pot boil lots of salted water. Start cooking the gnocchi (in 2 batches or more if necessary). Gently get them in the water (do not throw them all at the same time like we do when cooking pasta), give it a stir and wait until they float. Using a slotted spoon, transfer to your pasta drainer. Wait for the water to be boiling again to cook the next batch.
Making the sauce
In large skillet melt 2 tbs of the butter over medium heat, add onion, stirring and cooking until softened. Add the mushrooms, garlic and thyme and cook until mushrooms are tender, about 2 min. Set aside in large bowl. In the same pan melt remaining butter over medium heat, stirring until nutty brown. Add the sweet potato gnocchi, tossing, around 5 min and finally add the mushroom and onion mixture, combining well. Serve with fresh chopped parsley and a few curls of good quality  Parmesan cheese.
Related: