Tofu and Mushrooms Veggie Burgers
I've been researching for a recipe of Tofu veggie burgers for quite a while. They are a great option for a healthy vegetarian meal. It turns out that tasty veggie burgers recipes are not so easy to find. Most times the ingredients are not appealing, other times the consistency of the mix makes it difficult to shape into patties and to cook them.
There are some Affiliates links in this post, including Amazon Affiliates. I may receive commissions for purchases made through them. Learn about our Privacy Policy here.
This is a slightly modified version of chef Michael's Smith, Tofu and mushrooms burgers recipe. The secret is the combination of Portobello and shiitake mushrooms with tofu, brown rice, bulgur and spices.
Don't skip the mushrooms combination, these two types of mushrooms are different in texture and will complement each other in taste and texture. It is not a vegan recipe since it the recipe calls for eggs.
These tofu and mushroom veggie burgers will be still delicate when cooking, but won't break it apart if you're careful. For this recipe barbecuing is not an option. Cook them in a non sticky frying pan using cooking spray.
It is a good idea to cook the brown rice mixture the day before.
[convertkit form=5225962]
The veggie burger's appearance is not appealing until you get them in the right shape and they are cooked with a nice crust. It is a comfy burger, light but filling.
We ate them without the buns, with a beautiful salad. No ketchup was required either!
It was so worth the work! It is time consuming but one recipes yields 16 medium yummy burgers that can be frozen.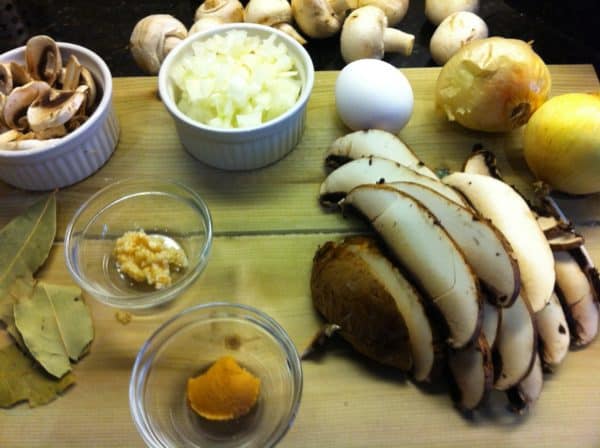 Mushrooms and Tofu Veggie Burgers 
2 tablespoons olive oil
4 Portobello mushrooms, sliced
1 cup of shiitake mushrooms, chopped
2 onions, chopped
2 cloves of garlic, minced
1/2 cup brown rice
1/2 cup bulgar
2 cups of water ( start with 1 cup and resist the temptation of adding more water)
2 tbs soy sauce
1 bay leaf
2 eggs (or 3 whites)
1 block of firm tofu
2 tbs Miso paste
1 cup of breadcrumbs (I used Panko)
Salt and pepper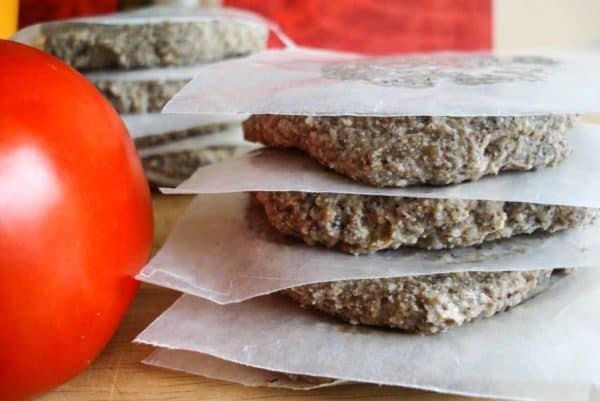 Heat a saucepot over medium-high heat and add oil. When hot, add mushrooms, onions and garlic.
Sauté until the mushrooms lose their moisture and onions begin to caramelize. Add rice, bulgar, water, soy sauce and bay leaf.
Cover with a lid and cook over medium low until the grains have absorbed all the liquid, around 25 min.
Resist the temptation to add more water.
Let mixture cool with the lid on the pan to allow the rice to cook completely
Place mushroom and rice mixture into the bowl of a food processor and add eggs, tofu, Miso paste, breadcrumbs and seasoning.
Puree until smooth.
Form into patties, use good quality parchment paper (I love these pre cut ones) to keep them form sticking to each other and refrigerate until firm.
Since the consistency of these veggie burgers is soft and delicate, quite different than any meat burgers, I like to use these hamburger press. Fry over medium high heat using a non sticky frying pan with oil spray until golden and cooked through.
Related:
Healthy Parmesan Crusted Tilapia 
How to make killer back pork ribs marinated in beer
sweet potato gnocchi with mushroom sauce
You need an Air Fryer in your kitchen