5 Reasons you need an Air Fryer now to eat healthy
Do Air Fryers really work to healthy cooking?
In one word: they do!
Air fryers are small kitchen appliances that are here to stay, like crock pots, toasters, blenders and many more awesome small appliances built to make life in the kitchen easier and faster.
There is one difference though, Air Fryers were designed for cooking healthier food.
Air fryers concept is very simple and smart: uses rapid air circulation to create heat that goes up to 400 degrees Fahrenheit.
A lit bit of oil and the result is crispy, golden but healthy food. From eggs, to French Fries, baking cakes, frying bacon and anything you like deep fried, can be done with an Air fryer.
There are some Amazon affiliate links and I may receive commissions for purchases made through links in this post. Learn about our Privacy Police here.
Lots of people are raving about Air Fryers lately and there are many reasons for that.
Any food cooked in an Air Fryer is way healthier than the regular deep fryer, 70% to 80% less oil used, it is a huge benefit, just for this reason

Faster cooking time

No smoke or smell in the kitchen, but most importantly, NO MESS!

It is a reasonably cheap appliance for all it can do. Even the most basic Air fryers work very well. The most sophisticated ones will offer features as larger drawers for bigger portions, prettier design and added paddle that stirs and turns the food around.

Perfect for any size of families. For one or 2 people cooking one batch will be plenty, for larger amounts of "crispies", you can easily put the second batch in, while you're eating the first one, cooking time is really fast.

Frozen food and Air Fryers can be a great combination. Frozen fries, small pot piecing most frozen foods work very well
You can control de amount of oil to cook with. I use olive oil, with this great oil sprayer but you can also brush the food lightly with butter, coconut oil or any other type.

They can look really attractive sitting on your counter top.

Cleaning is a breeze! T

here is not much residue. Let it soak in hot water for 10 min. and put both trays in the dish washer.
You can fry, steam, grill, roast, and even bake with it! The timer and temperature can be set to be automatic, but if you preferred to manually check your food you can do that as well.
[convertkit form=5225962]
Choose the Air Fryer that is ideal for you – Best Air Fryers in the market
Choose according to the size of your family and portions sizes you normally cook. If you don't mind cooking in batches, a regular size Air Fryer will do the job. Don't underestimate the cheaper ones, the basic cooking system in all Air Fryers is very simple,.they will still work well.
Popular and large Air Fryers – for large families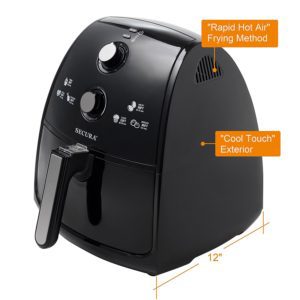 Low Price Air Fryers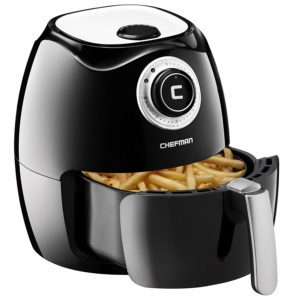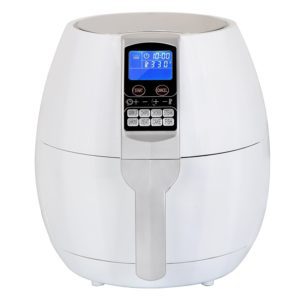 The pretty Air Fryers – To look good on the counter top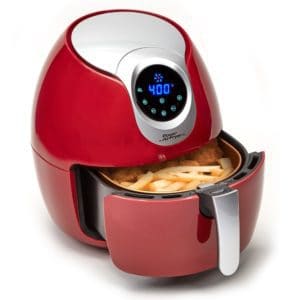 Small Air Fryers – for 1 or 2 people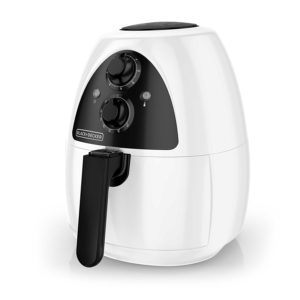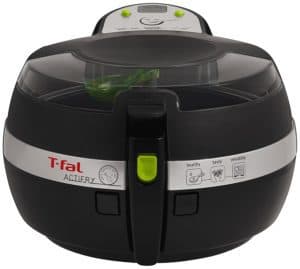 The Top of the Line Air Fryers
You can make healthy fried dishes with Airstorm technology.

The digital screen allows convenient time and temperature control.

Various dishes such as baking and grilling are also available.

It is easy to wash baskets.

Cooking is possible without having to warm up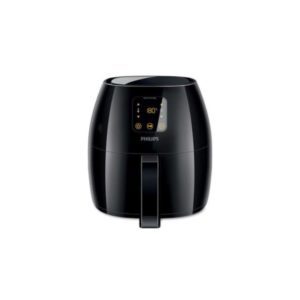 Temp range from 100-400 degree in 5-degree increments

Digital timer is programmable up to 100 hours

6 presets include: fries, frozen fries, nuggets, steak, poultry and fish

Pre-heat button ensures desired results every time

Reheat button automatically sets to 360Ë F for 4 minutes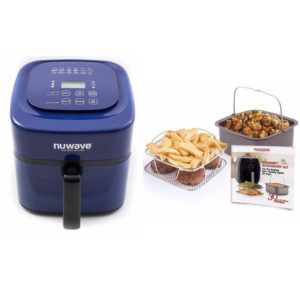 Related: Home made easy gourmet tomato sauce
Accessories for your Air Fryer
Paper liners for Air Fryer.
Non Stick Food Grade Paper Liner for Air Fryers
Steaming Bread, Buns, Dim Sum, Cake
These Paper liners prevent food getting stuck on the train case you are using minimal amount of oil. I haven't tried yet but it is in my list for the next order.
Air Fryer Accessories for Philips GoWISE Power It is a set of trays, silicone mini mitts, guide and Grill rack brush. The extra tray allows cooking double the batch.
AirFryer Farberware Cooks Essentials and other Large to X-Large Models –
Fits all large models
Universal Air Fryer Accessories Deep Fryers: Fryer basket,baking pizza pan,grill pan,pan support and pad
– Includes, baking pizza rack and extra trays.
The complete Air Fryer Book – Handy cook book with tons of easy healthy Air Fryer Recipes.
My Air Fryer – T-Fal Fry Delight
We bought our Air Fryer on a great sale at Boxing Day. We decided to go for the cheapest one at the time because all the raving around sounded like another big sales pitch. We were suspicious.
Now I wish we had bought the larger model, so we don't have to do 2 batches when we have more people eating with us. Other than that, the T-Fal Fry Delight is amazing!
We tried many different things: chicken fingers (frozen and homemade), fries (frozen and home made), sweet potato fries, crispy vegetables like cauli-flower, broccoli and egg plant, lightly breaded but our favourite ever is Chicken wings.
Get your Air Fryer, you won't regret it!
Healthy recipes you might want to check out: