Subscribe to Our Content and Get a FREE Printable every Month to Make your Life Easier and Healthier
Homemade Traditional Tomato Sauce
There is nothing better and easier than a dinner pasta night. We all do it at least once a week, I would guess. Pure comfort and convenience that you can elevate to a next level when you use a fresh, homemade tomato sauce.
There are some Amazon affiliate links and I may receive commissions for purchases made through links in this post. Learn about our Privacy Policy here.
I saw Rachael Ray making this sauce on TV a few years ago and since then it became the "one tomato sauce" in our home. We don't eat pasta frequently at all, always trying to cut on carbs, but when we do, I make sure we have the best tomato sauce ever. In one word: perfect!
[convertkit form=5225962]
And so easy and fast to prepare, ready in 30 min. Add some browned spicy ground beef, spaghetti, Parmesan cheese, dinner is ready and you get the credit of making an amazing Italian style tomato sauce from scratch!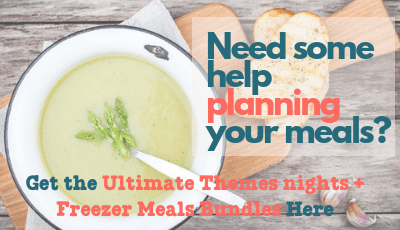 I have quite a collection of Rachael Ray's cook books but this recipe is not featured in any of mine. However this one has lots of Italian recipes if you are a fan. It does make a big difference when you use San Marzano Tomatoes, they're sweeter, which makes the sauce less accid. The better quality you can find, the better.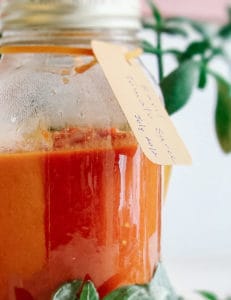 Here's the recipe for 3 cups of sauce.
Homemade Traditional Tomato Sauce
2 cans of San Marzano tomatoes  (they are sweeter) coarsely minced, seeded
2 cloves of garlic
3 tbs extra virgin olive oil
fresh basil
1 tbs sugar
Fry the garlic in the olive oil, both sides, be careful to not burn it. Discard them. Add the tomatoes, sugar and basil and cook in medium heat for approximately 20 min. Lower the heat and cook 20 min or until the sauce is not watery.
I keep in the fridge for up to one month if I take the trouble of boiling the cans before pouring the sauce. If not, it freezes really well too.
Lately I am having very good results making this sauce in the slow cooker. I make a bigger batch with up to 5 cans of the San Marzano tomatoes and let it cook for about 3 hours. Leave it longer if you like a thicker sauce.
By the way, my slow cooker is this one. I bought it last year on Boxing day. It wasn't the cheapest but I just loved the frying setting. You can brown, sauté and fry anything before starting the slow cooker cycle. Dish washer safe, a real find!
Related:
Healthy Parmesan Crusted Bake Tilapia 
5 Reasons you need an Air Fryer in your kitchen
Gluten Free Cheesy and Crispy Tapioca Puffs – Pão de queijo
Morning Glory – Healthy and Craving stopper