This is a killer back pork ribs recipe, the one that you will use it all the time! I am not kidding, it is really to die for. I've been using this back pork ribs recipe for so many years that I have never even tried another one. I adapted it from a Food Network recipe, but so long ago that I can't find it in the site any more.
It is not something I make too often, it is a day project and we use it for special dates. It is a perfect summer dinner. It is easier to prep the day before, marinate the day you will cook. I haven't tried in the slow cooker yet but I am sure it would be easy. I heard it works very well but haven't tried myself yet.
For me the perfect. melt in your mouth ribs start with trimming the excess fat and removing the thin skin, which takes patience and preferably a little pair of pliers. It really makes a big difference if you get them from a good butcher, fresh and thick.

Then, marinating it for a minimum of 4 hours with a mix of beer and spices. And that is what takes my ribs to a new experience, it is unbelievable how the beer blends well with onions and spices, cutting the edge of the pork fat and filling the meat with its comforting fermented zest.
After the 4 hours, pre heat the oven to 325F, take out of the fridge and cook for at least 90 min. It you like fall off the bones ribs, leave it for longer and the ribs will melt in your mouth.

Start early in the day or even in the previous day. I've done a large batch to be frozen to take it to the cottage, it worked very well.
This pork ribs sauce is amazing and in the original recipe was called as the cook secret sauce.

Killer Back pork ribs marinated in beer recipe
4 pork back ribs (5lbs each)
2 bay leaves
2 sliced onions
2 tbs black peppercorn
6 cloves garlic, smashed
1/2 bunch each of fresh rosemary, thyme or whatever you have
3 bottles of beer (any kind you want)
The sauce
1 cup ketchup
3/4 cup brown sugar ( I use 1/4 cup + 1/2 cup Splenda for diabetes control)
5 garlic cloves finely chopped
1 tbs dry mustard powder
1 tsp Tabasco
1 tbs Italian seasoning
1 tbs Worcestershire sauce
1/2 tbs soy sauce
2 tbs maple syrup
1/2 tbs dried onion flakes
1/2 tsp ground pepper
Trim fat and skin of ribs and cut them in 2 or 3 pieces. Place 1/2 of the onions slices on the bottom of ovenproof dish and place ribs on top with the remaining of the onions and all spices. Pour beer over the ribs and cover with foil. Marinate in the fridge for 4 hours. Pre heat oven to 325F.
Poke a few holes in the foil and place in the oven for 90 min.
In the mean time mix all the ingredients for the sauce and allow to sit while the pork ribs are cooking.
Remove ribs from the dish, separating the liquid and scraping onions off from the rib pieces.
Grill the ribs, placing them side down, on the grill, directly over medium heat. Grill for 10 min or until brown, blasting every few minutes with sauce and reserved liquid.
Serve ribs with remaining sauce.
An option to grilling is to broil them in the oven, which I did this time since our BBQ wasn't ready yet. Make sure to pre heat them, blast with liquid and then sauce and broil for 3 or 4 min.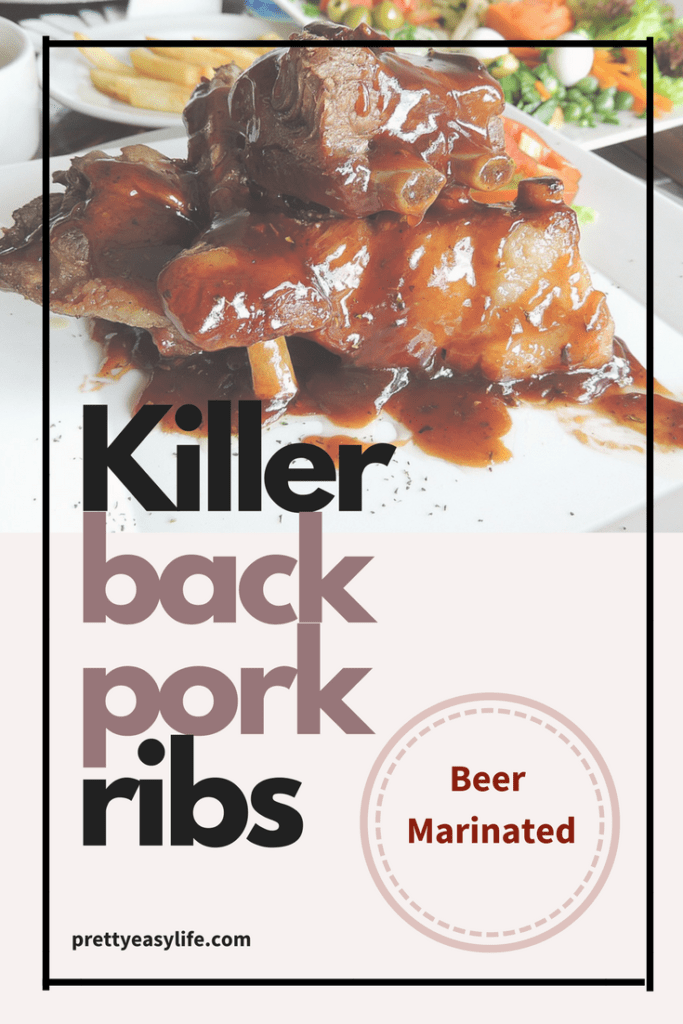 Related: