Subscribe to Our Content and Get a FREE Printable every Month to Make your Life Easier and Healthier
Healthy Tabouleh Salad
Tabbouleh is a Lebanese salad made up with bulgur, tomatoes, cucumbers, lots of parsley and green onions. The special touch: mint. It is a filling salad that could be a meal by itself, fresh, crunchy and delicious. There are many variations for  this amazing salad but my favourite over the years has been this Lemon, Mint and Bulgur Tabbouleh Salad recipe.
The dressing is simple, lemon juice and olive oil with a dash of salt.
Soak the bulgur over night or at least for 4 hours, drain it well and add the chopped vegetables, toss the dressing, and it's ready.
I normally soak up 1 cup of bulgur which will turn into around 2 1/2 cups. You can keep the soaked and drained bulgur in the fridge for a couple of days before adding the remaining ingredients. This Lemon, Mint and Bulgur Tabbouleh Salad is a ideal option for a lunch to go.
Lemon, Mint and Bulgur Tabbouleh Salad
 4 side portions or 2 meal portions
1 1/2 cup bulgur (soaked over night and well drained)
1 small cucumber chopped
1/2 to 1 field tomato (around 3/4 cup) chopped
1/4 cup lemon juice
3 tbs olive oil
1/2 tsp salt
1/4 cup chopped fresh parsley
2 green onions chopped
fresh mint chopped
Soak the bulgur in cold water over night (1 cup will turn into 2 1/2 to 3 cups) or at least for 4 hours.
Drain it well. I pour it into a strainer and let it sit for a while, squeezing a bit.
Mix everything together, adjust salt and mint and serve immediately.
This Lemon, Mint and Bulgur Tabbouleh Salad will last in the fridge for one day, without losing much of its crunchiness.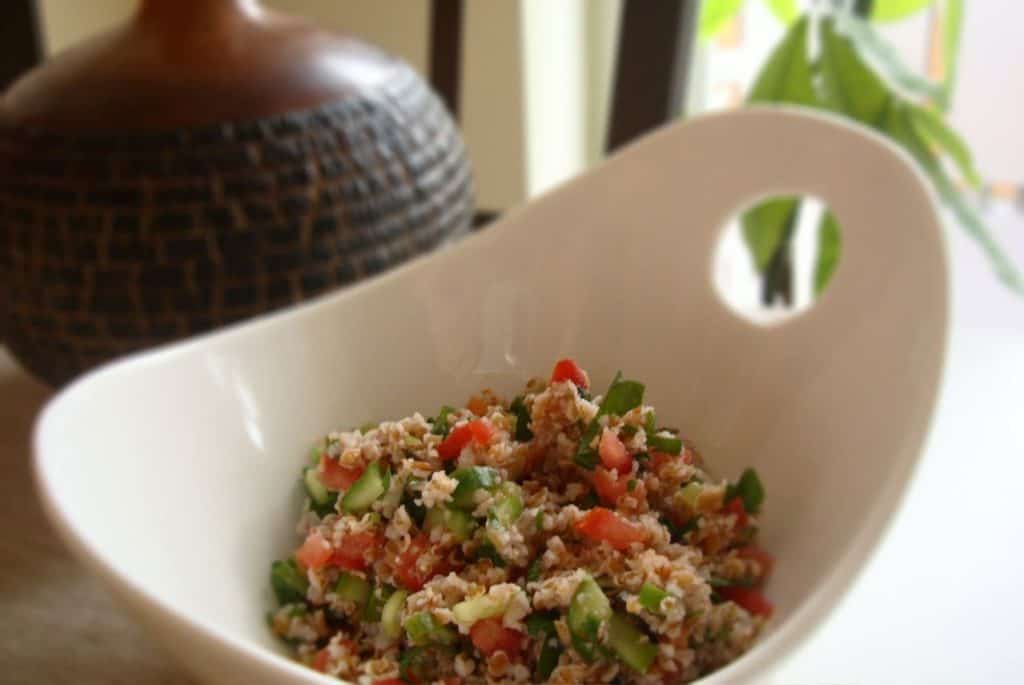 Tabbouleh is extremely popular in several countries of the Middle East, but is also gaining popularity in Western cuisine as a healthy, vegetarian food that is low in fat yet provides fiber, minerals and complex carbohydrates.
A popular version of this salad is to substitute burlgur with quinoa. Find a recipe here.