Subscribe to Our Content and Get a FREE Printable every Month to Make your Life Easier and Healthier
Avocado and Maca Smoothie
Avocado nutrition facts
Avocados are hugely popular these days and it seems people can't have enough of it. Starting you day with an Avocado smoothie can work the magic of making you feel fed for the whole morning.
There are some Amazon affiliate links and I may receive commissions for purchases made through links in this post. Learn about our Privacy Policy here.
Dense, rich and nutritious, these generous fruits grow in large trees that can produce around 200 to 300 avocados every year, depending of the region. Next time you're tempted to grab a fast bagel & coffee for breakfast, think twice. It only takes a few minutes to prepare this amazing Avocado and Maca Powder (aka fat belly reducer powder) smoothie. 
Avocados are remarkable fruits that can provide a lot of nutrition and vitamins.  From guacamoles to desserts, avocados are versatile and are available for us in North America all year around, for prices that are not outrageous, given the quality of the nutrients you get.
The avocados we eat in Canada, for example, mature on the tree, but ripen off the tree. They are picked hard and green and kept in coolers at 3.3 to 5.6 °C (37.9 to 42.1 °F) until they reach their final destination, on our tables.
Raw Avocado Nutrition Facts
Avocados are very filling, incredibly nutritious and taste really good. They may be an excellent addition to an effective weight loss diet, specially a Keto Diet. 
They are a source of several vitamins, minerals and plant compounds, that will benefit your health benefits from your heart to your joints.
1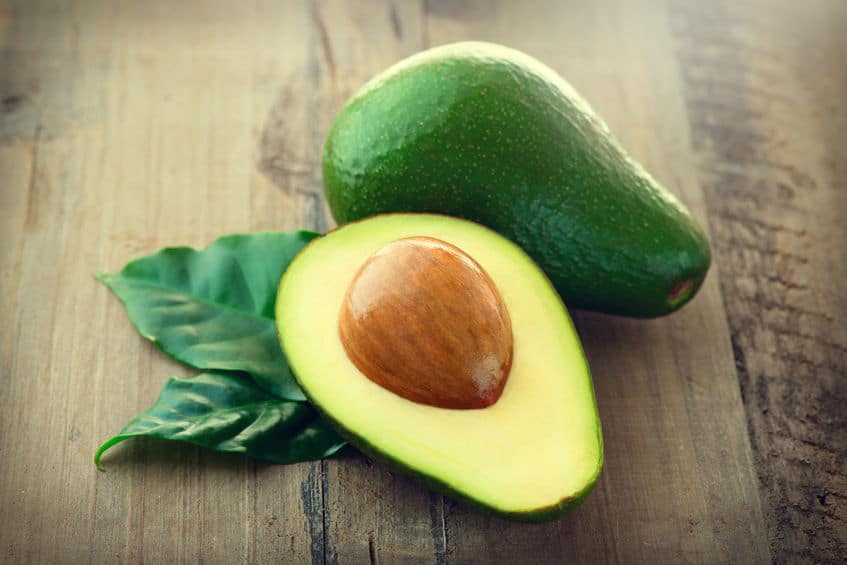 1- Avocados do not contain any cholesterol or sodium and are low in saturated fats
2- One-third of a medium avocado (50 g) has 80 calories and contributes nearly 20 vitamins and minerals, making it a great nutrient-dense food choice. Therefore the calories in a small Hass avocado are only around 227 calories and you don't need a full one for your smoothie.
3- Avocado is virtually the only fruit that contains heart-healthy monounsaturated fat – good fat. Avocado oil is pressed from seed and is similar to olive. The result is a fatty acid profile that's nearly identical; around 70% monounsaturated, 12% saturated, and 13% polyunsaturated.
For this reason, it shares many of the same advantages of olive oil for cooking, plus it's popular for skin and hair uses.
[convertkit form=5225962]
4- Compared to other fruits, avocados contain very little sugar. Half an avocado (68 grams) contains only 0.5 grams of sugar, in the form of glucose, fructose and galactose
5- Half a raw avocado provides 4.5 grams of fibre, which is very high.
6- Avocados have one of the most abundant fatty acid – oleic acid – , which is also the main component of olive oil. They help protect against heart disease, diabetes and cancer.
7- Avocados are rich in many vitamins and minerals, such as B-vitamins, vitamin K, vitamin E, vitamin C, potassium and copper.
8- Avocado allergy is rare.
9- Avocados are also very high in fibre, low in carbs and do not raise blood sugar levels
A filling avocado smoothie will get you packed with nutrition like anything else. Fast and easy to prepare, it will stop your cravings for morning carbs and it is amazingly comforting.
Avocado smoothies have this silky texture and you can make it as filling as you want. Try adding oats, flax seeds, bananas, apples or any other fruit or grain. For this Avocado smoothie recipe I added Maca, banana and oats.
Avocado Leaves
In addition to the fruit, the leaves of Mexican avocados (Persea americana var. drymifolia) are used in some recipes as a spice that resembles the taste of anise. They are sold both dried and fresh, toasted before use, and either crumbled or used whole.
Avocado Seed
The seed is also considered to be a rich source of phytochemicals, which are substances that plants produce to protect themselves. In Nigeria is used to control blood pressure, after dried and processed into a powder. However there is not yet enough research backing up the consumption of the avocado seed.

Maca Powder 
"Maca powder" is a powerful root from the Andes, mostly Peru, that is known to reduce cortisol and therefore belly fat, amongst other benefits.
It is native to the high Andes of Peru and Bolivia and also cultivated in some parts of Brazil.
According to different sources, Maca has been cultivated  "for approximately 2,000 years. Maca has been an important traditional food and medicinal plant in its  growing region, where it is well-known and celebrated. It is regarded as a highly nutritious, energy-imbuing food, and as a medicine that enhances strength, endurance and also acts as an aphrodisiac. During Spanish colonization Maca was even used as currency."
Maca powder is also known to help to reduce tummy fat. Maca is high in fibers, such as cellulose and lignins, which improve gut health. Fiber, as we all know, is also an effective tummy filler, which can reduce hunger between meals. It is also packed with proteins and good oils to keep you fed for longer.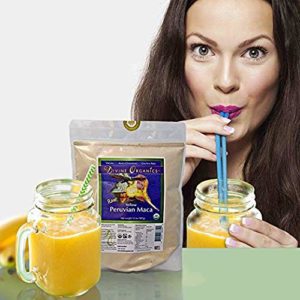 I found organic Maca at Bulk Barn (Ontario – Canada) but any Health food store will have it. It is not cheap but the fine powder goes a long way if you are just taking 1 tsp a day. It is said to be bitter but I didn't taste it, 1 tsp is not much. You also can find it at Amazon.
In case you'e considering taking Maca Powder for other health benefits, find some very useful information in this article, including the guidelines to start taking a bigger amount safely.
Related: 3 Ingredient Keto Avocado dessert
Avocado and Maca (belly fat reducer) Smoothie 
1 cup milk, almond milk or coconut milk (forKeto Diet)
1 tbs honey, sugar or sugar substitute
1/4 greek yogurt
1/2 Hass avocado
1 tsp Maca
1/2 banana (or frozen banana)
Put all ingredients in your blender. Blend it well and it is ready. I actually used 2 tbs of honey but I have a sweet tooth, so I figured 1 tbs would be enough in the recipe. It doesn't work well leaving it ready in the night before because the avocado will darken.
Related : Ice cream avocado dessert
If you're looking for more ideas for your breakfast Smoothie I got you covered. I have quite a few favourite smoothies that are nutritious and easy to prepare. Can't give up on your morning coffee? Have a smoothie for lunch or as your afternoon snack.
Related: How to Make Healthy Cooking Easy