Subscribe to Our Content and Get a FREE Printable every Month to Make your Life Easier and Healthier
How to Make your Healthy Cooking Easier
Even if you love cooking and have enough time to prepare your meals without rushing, there is nothing wrong with finding ways to make your healthy cooking easier and faster.
Being efficient, having a well-stocked pantry and the right utensils will add a layer of satisfaction to the art of preparing your healthy food with your heart.
There are some Amazon affiliate links and I may receive commissions for purchases made through links in this post. Learn about our Privacy Policy here.
However if cooking is not your favourite task, and you do want to eat and cook healthy, finding ways to make cooking easier is even more important, so you can be done without much effort and still enjoy the taste of the food you prepared.
A little bit of planning goes a long way to avoid the last minute decisions that will end up with ordering food or eating out and giving up on your healthy cooking.
Kitchen organizing also goes a long way to avoid the annoyance of reaching out for something that you don't have in your pantry or looking for a kitchen tool that doesn't work.
When you're tired after a long day of work, hungry and rushing out of time with the kids, you need everything handy, working and a well-functioning kitchen.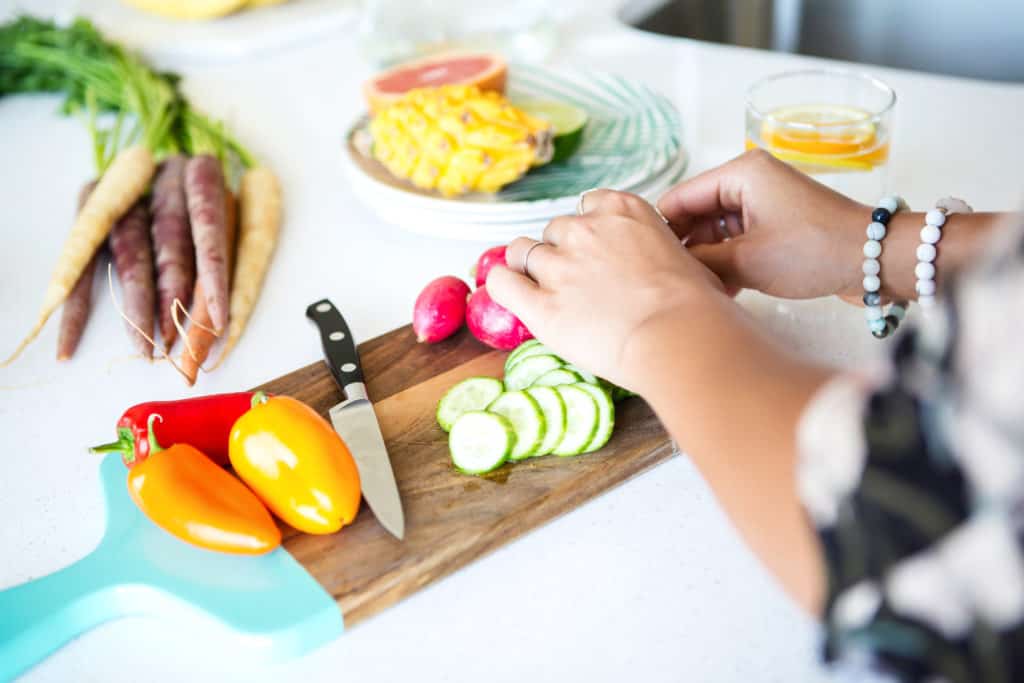 1- Keep your pantry always stocked up with the basics
Think of good quality canned food, spices, and preserves that will last long. Some of the essentials recommended by most chefs are: beef and chicken broth (organic broths are not expensive), good quality peel tomatoes, dry spices, a variety of cooking oils, such as olive oil, avocado oil and grapeseed oil, balsamic and wine vinegar, canned organic beans and chickpeas, quinoa, rice, breadcrumbs, baking essentials, dried fruits, good quality pasta, are some examples of a simple stocked pantry.
2- Get your shopping list in your phone, shared with your partner and family
So many apps are available for keeping a shopping list handy and up to date, so you can grab what you need in your way home. You and your partner or family can add items to it easily and you never out of the essentials.
3- Keep your knives always sharpened
There is nothing more annoying than a knife that doesn't go through a ripe tomato. Take the time to sharpen all your knives once a month, it is well worth it. This is the best in the market. I have one, well worth the investment, buy it on Amazon. I also keep a manual and simple one, for a quick fix.
4- Small kitchen appliances that speed up your time in the kitchen
It all depends on your cooking style of course, but there are a few small appliances that make my cooking a breeze and I normally plan my meals around them. We eat homemade food 85% of the time, even our dogs eat their Homemade dog food, twice a week.
[convertkit form=5225962]
5- Meal plans are the backbone for making your cooking easier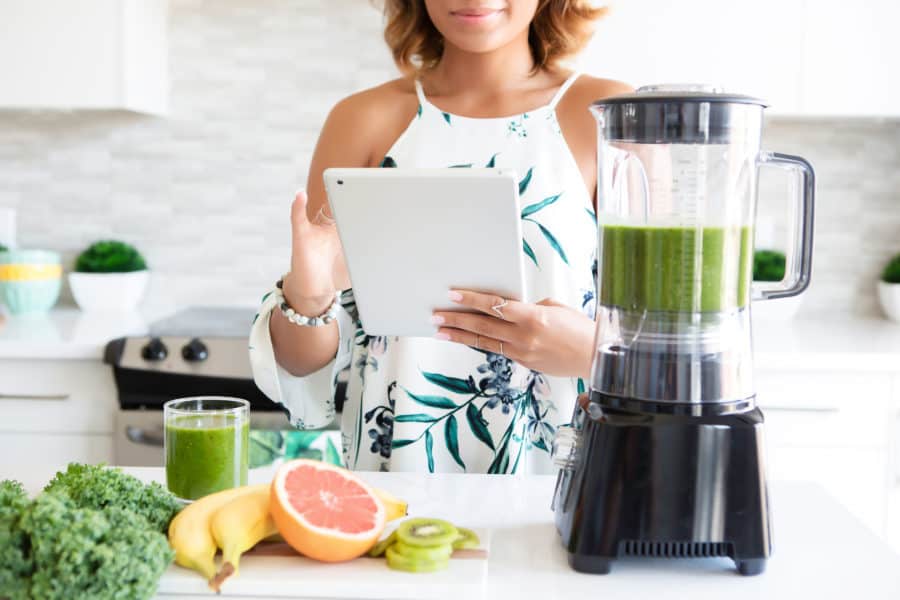 It is way easier to plan your meals ahead of time if you're a planner at heart for everything in your life. You can get books, printables, magnetic organizers, cards, and so much more. For me what really works is to do the weekly planning when I am doing my groceries list. I also make sure to always know what we will be cooking for dinner the day before, so I can take out of the freezer and check if I have all the ingredients.
I learned that a secret for success on eating healthy and cooking from scratch is simple: I always plan around the food we enjoy eating. If it is a "so-so" option, the willing to cook is gone.
Some of our favourites are: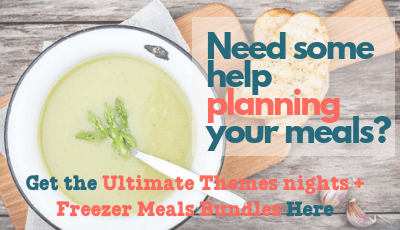 6- Cook in batches and freeze in smaller portions
After so many years of cooking, I have basically 4 staple foods that I cook in batches that make my cooking super easy.
Extra lean ground beef – 3 pounds go a long way when you brown it with lots of spices, let the fat drain and freeze in smaller portions for the last minute spaghetti sauce, a beef casserole, stuffed peppers, and even a Beef Tortiere.
Poached skinless chicken breast – You can get the directions for poaching chicken breasts here. Freeze in small portions and you will always have a quick chicken soup made in less than 10 min or even a Chicken pot pie ready in a blink. Save the chicken broth and freeze it as well.
Tomato sauce – Once a month I make a large batch of my famous San Marzano tomato sauce in the slow cooker and I freeze it for any pasta dish. Nothing beats the flavour of a homemade tomato sauce.
Black Beans – Being Brazilian, we eat a lot of beans with rice. Salty, garlicky beans in a thick sauce that goes well with any protein. I sauteed organic canned black beans with garlic and olive oil, let it simmer and freeze it.
Stock up on freezer containers, the ones with a tight lid, like these ones. You can freeze soups and sauces in big batches.
7-  If you're rushed for time and still want/need to eat healthier, get some help
Sometimes life events get in the way of our life routine. Bringing a new baby home, guests staying over, an emergency situation, these things happen. Normally the easiest solution is to order food, go out for dinner, which is not as cheap and neither healthy.
For a while, when this blog was only about Food, I was hired by a young and single guy to cook for a month at a time. He was a vegetarian, super fit and healthy and wouldn't give up on his home prepared food even being very busy.
Every month I would make batches of Mushroom and veggie burgers, Sweet potato gnocchi with mushroom sauce and Sweet Potato soup, among other vegetarian dishes.
These days there are so many options to get this kind of help. There are many chefs and cooking students that would come to your house to do so within a wide price range. Do the math, compare prices with eating out every day and you will find that getting some help to prep and cook your food might be a very good temporary solution.
8- Plan to have all your preparation ready one day before your cooking
It saves a lot of day and the overwhelm of spending too many hours in the kitchen. Wash your greens and prep your vegetables so you'll have everything ready for the cooking time.
There you have it, I hope you can find ways to make your cooking easier and healthier. Share with me your ways to make your healthy eating cooking happen!
[pt_view id="177620cclo"]