Subscribe to Our Content and Get a FREE Printable every Month to Make your Life Easier and Healthier
 Old Fashioned Creamy Chicken Soup
Fall is ahead of us and it is time to catch up with life and enjoy the coziness of home while the outside temperatures keep falling down. Nothing like an old fashioned creamy chicken soup. A hearty and homy soup, creamy enough to maybe elevate a simple Saturday dinner to a great meal. Add some 
fresh bread
, a green salad and a glass of red wine and you're done!   Easy, tasty, this old fashioned creamy chicken soup freezes very well. I divide it in individual portions and freeze it, for that late meal when we don't feel like cooking. This recipe requires poaching the chicken which is a healthy way to cook chicken breasts without over cooking. I normally poach a big batch and keep in the fridge, ready to go. I use it  for this soup and for my famous (can't be humble here) 
Chicken Pot pie with a puffy crust .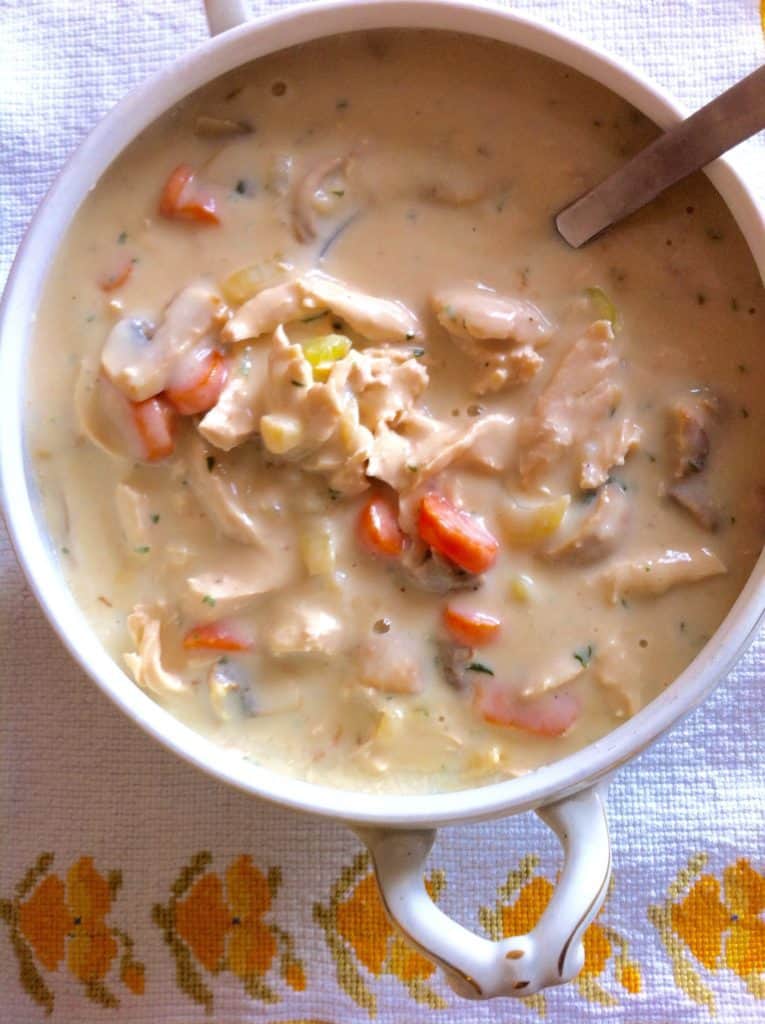 Old Fashioned Creamy Chicken Soup
6 portions
Ingredients for poaching the chicken breasts:
1 lb chicken breast in halves 6 cups water 2 chicken bouillon 1 celery stalk in 2 pieces 1 large carrot diced 1 medium onion cut in half
Ingredients for the soup
16 oz chicken breast poached and diced 1 tbs butter 1/4 cup flour (to make gluten-free use 2 tbsp cornstarch instead) 1 1/2 cup chicken stock (from poaching the chicken) 4 cups milk 1% 1/4 cup light cream 1 large celery stalk, chopped 1/2 medium onion, chopped 2 cups mushrooms, any kind – finely sliced 1/2 cup carrots (from poaching the chicken) 1 cup frozen peas 2 chicken bouillons salt and pepper to season [convertkit form=5187873] Start by poaching the chicken: In a medium saucepan bring the water and all the other ingredients to a boil. Add chicken, reducing heat to a simmer and poach until just cook through, about 10 min. With a slotted spoon remove chicken and set it aside. In a separate pan, melt the butter and add the onions and celery and sauté for 2 minutes. Add mushrooms until onions are transparent being careful not to brown. Add flour and gently mix well. Cook this mixture over low heat for 6 to 8 minutes, stirring gently, scraping the bottom of the pan, so the roux doesn't burn. Increase the heat and add the chicken stock, whisking well so that no lumps appear then lower to a simmer. Add the milk and cream together repeating the same process. Season with salt and pepper and add the peas, cooked carrots and chicken. Cook in low for 5 min.
Related:
Killer back ribs marinated in beer
Sweet Potato gnocchi with mushroom sauce
5 reasons why you need an Air Fryer