Subscribe to Our Content and Get a FREE Printable every Month to Make your Life Easier and Healthier
Cheap and Easy Carrot Cake
This is really the easiest and cheapest Carrot Cake ever!
It doesn't get any easier than this: carrots are blended with eggs and vegetable oil and them mixed in with the dry ingredients. In 10 min your Easy Carrot Cake will be in the oven.
It is a very popular coffee cake in Brazil, sweet and filling but yet with a twist on the healthy side with the carrots. It is the easiest carrot cake made from scratch you will find.
Find other amazing Brazilian recipes:
It can be a nice change for your Easter Carrot Cake this year, something different, easy and so cheap.
Don't worry about the amount of baking powder! Without whipped egg whites to do the lifting of the batter, and with the weight of the carrots, there is no other way to get the batter to rise up, nice and fluffy.
If you are not much of an icing person, like me, make the icing as a thin layer, which will add just a touch of chocolate icing on top of the soft cake, so delicious! You can also use Nutella as a topping or any of your choice of store bought icing.
The healthier way is to sprinkle icing sugar on top, which is my favourite.
If you're into healthy eating, check this out: How to make your healthy cooking easier
I remember so well visiting family or friends on a weekend afternoon, nothing planned in advance, as it happens so often down in Brazil. The home host would excuse herself for 10 min and come back to entertaining. In a while all you can smell in the house is this carrot cake baking for us, the unexpected guests!
Half an hour later, there comes the cake, still warm, served with fresh espressos! Good food is always related with good memories, priceless!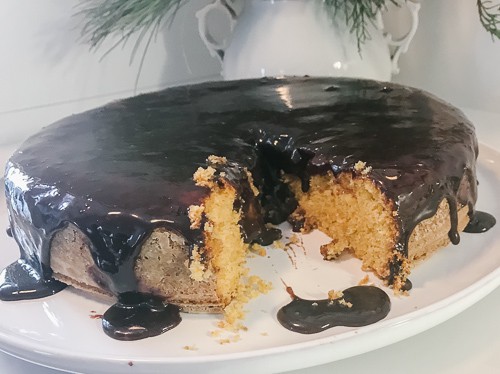 Easy Carrot Cake
3 medium carrots (7 to 8 ounces)
3 large eggs
3/4 cup vegetable oil
2 cups all purpose flour
1 1/4 cup sugar
3 tsp baking powder ( it seems a lot, but my guess that the carrots base requires a heavy lift)
1/2 tsp salt
Carrot Cake Icing
Ingredients
1 cup sugar
1/3 cup cocoa powder
3 tbs butter
1/4 cup milk
Carrot Cake Directions:
Pre heat the oven to 350F.
Peel and slice the carrots. Mix the carrots, eggs and oil in the blender and give it a good mix.
Mix all the dry ingredients together, sifting the sugar and flour in a large bowl. Add the carrot mix and stir well. Grease a 8 inches cake pan and pour the batter evenly.
Bake for 40 to 45F, until a toothpick comes out clean.
Icing Directions:
Mix all the ingredients in a pan, low heat stirring until it comes to a boil. Cook for one minute and pour on top of the cake while both, cake and icing are still a bit warm.
If you want the icing thicker, wait for around 3 to 5 min before adding the icing to the warm cake.