Feng Shui your Bedroom
Our interior lives (thoughts, desires, dreams, and aspirations) are deeply connected with the space we live in: our homes, the rooms in our homes where we spend time, working, resting and having fun. There's where intuitive Feng Shui takes place and why you could Feng Shui your bedroom to improve your life, the quality of your sleep and emotional health.
There are some Amazon affiliate links and I may receive commissions for purchases made through links in this post. Learn about our Privacy Policy here.
The connection with the physical space of our homes is deeper than we realize. It can interfere in the way we make choices that can actually unlock types of negative energy that might be pulling us down.
Feng Shui — which literally translates to "wind and water" — is the ancient Chinese art of placement. The goal is to enhance the flow of "chi" (life force or spiritual energy) and to create harmonious environments that support health, well being, wealth and happiness. Stagnant Chi or Chi that moves too rapidly has a negative effect on your well-being. Feng Shui's goal is to allow good Chi to circulate, flow all through your house to balance your home energy.
You might find some Feng Shui principles superstitious and others good intuitive common sense: use what feels right for you, we will call as intuitive Feng Shui.
There is also a difference in approach between the traditional Feng Shui and the one practiced in our Western world. You can read more about it here.
In the Western, Feng Shui practitioners use the principles as a more intuitive approach related to each client preference. For example, the more traditional Chinese Feng Shui would recommend red for the colour of the front door.
"Western Feng Shui would recommend the client chooses the colour they love the most", according to Erica Sofrina, writer and teacher of Feng Shui for the Western world. "The point being that this will lift your personal chi much more than Chinese red, especially if you dislike this colour."
Intuitive Feng Shui in the bedroom
In the bedroom, "Feng Shui helps you arrange the space to support your best rest and connection with your partner and with yourself," says Los Angeles Feng Shui consultant Jayme Barrett, author of "Feng Shui Your Life."
Feng Shui bedroom layout
One of the most important spaces in your home is your bedroom. When planning the bedroom design, we normally start with a decor project, focused on shape, colours or style.
Instead of starting with these elements, using some intuitive spacial awareness to align your bedroom space with who you really are, might be the best road to create a healing and peaceful space, where relaxation rests in every detail.
"When Feng Shui blends with intuition, a creative force emerges to explore steps to create a beautiful healing space," says life advisor and relationship expert who uses intuitive methods.
It is possible to shift the energy of any room and many times we don't pay too much attention to this. According to Suzannah, there some basic questions we need to ask to ourselves when planning a change in our bedrooms:
Do we own the room or the room owns us?
Is it chaotic or it is a sanctuary?
Is it sensual or soulless?
Many factors play a role in your answers to these questions. For example, how are your bed sheets? Are they fresh and crisp or messy and worn out? How comfortable do you feel in your own room? Is your room prepared to be shared with your partner? Do you have any romantic accessory reminding you of the love of your life?
We are often unaware of our energy blocks. The way our bedroom presents itself can tell us a lot about our subconscious energy that might be dragging us down.
Sometimes it is difficult to pinpoint our perceptions, the deeper the dive into yourself, the better you will Feng Shui your bedroom.
How to align your personality with your Feng Sui bedroom
It is possible to regain control of the well being of your life with a strategic approach to our bedrooms, the intimate environment, where we go to rest, love, pray, relax and sleep.
Paying some attention to your own feelings and hopes in life will benefit your choice of how to create a room where your personality is aligned with the atmosphere and design, making it functional and serene.
Your sacred space
Your bedroom is the most intimate place of your home, where you need to feel like yourself.
There are some ways to determine what is your connection with your bedroom so you can plan your Feng Shui bedroom layout. Suzannah suggests 4 ways:
1- " Walk around naked in your bedroom. How does it feel? This is your sacred sanctuary. If you're troubled or feeling despondent in this space, it will show up in your body no matter where you go: It will affect the way you walk and even how you perceive the objects around you. Being naked is a great way to connect yourself to the sensual rhythms of your body. When you're fully in your sensual self, you will have a heightened awareness of what is out of place in your bedroom. Objects will shout out to you, "Throw me out!" or "Move me!"
2- "Write out a list of the characteristics that you would like to be (i.e., funny, smart, sensual, spiritual, intense, compassionate, sexy). Does your room evoke any of these feeling and aspirations?"
[convertkit form=5211406]
3- Close your eyes and take a moment to relax. Open your eyes, and walk through your bedroom again, noticing the objects that stand out. Choose the ones that have a special meaning to you. Notice the connection. Are there memories associated with the items? If so, are they pleasing or conflicting? What do the colours and smells you're sensing represent to you? Connecting in this way instantly grounds us."
You will be surprised to find out that many objects and even furniture are not in sync with what you are or want to be. An example: you see yourself as a romantic person and your room looks cold and monochromatic.
The next step will be to get rid of things that are not connected to you.
Related: Yoga beginners to improve your life
Owning your Feng Shui bedroom
By now you might have a good idea of what you want for our bedroom.
Is your bedroom a spiritual sanctuary, a cool and collected room with space to work, a sensual room when you can explore your sexuality, or maybe any of the above? Whatever the energy you choose, the main goal is that it is connected with yourself in the most intimate way.
After pinpointing your personal vibe, it is time to think of your decor preferences: neutral colours would not match with a vibrant room where joy and enthusiasm are the main elements. On the other hand, soft greys, creams, beiges, and earth tones are excellent colours to calm the spirit.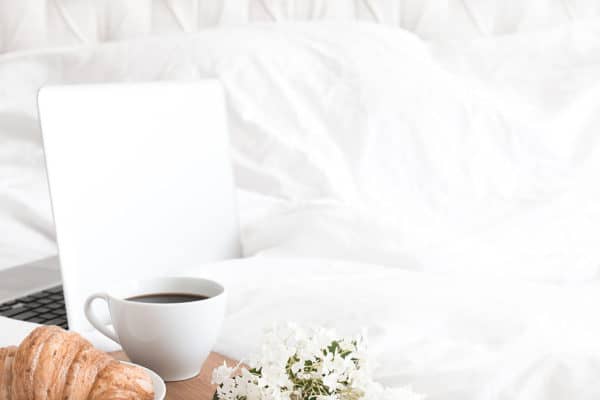 Your bedroom represents you and all your desires. Being desired and feeling sensual (with the knowledge that you deserve it) are essential: outfit your bedroom with whatever objects reflect that sensuality. As you fall into bed at the end of your day, surrender to pleasure—let yourself melt into serenity.
RELATED: Rise and shine from a career downfall
Creating a Sensual and Peaceful Heaven in your bedroom will improve your quality of life
In addition to creating a room that's beautiful to look at, take time to appeal to your other senses as well, by filling your bedroom with things you love to smell, touch, taste and hear.
Your bedroom can function as your sensory treasure box.
For example, a scent is all you need to shift energy in a room from stressed and anxiety-ridden to calm and collected. You will naturally feel more excited to go to bed on sheets with a fresh scent. Many Feng Shui experts recommend getting a diffuser with essential oils. Orange and lavender oils, for example, are great for de-stressing and relaxing.
Aim for pleasure and dreaming as the keywords for your bedroom. In a good Feng Shui bedroom, every item will reflect the clear intent of love, healing, and relaxation.
However, if your bedroom is not a good Feng Shui bedroom, start small with a simple plan and over time things will follow into place. You will soon create a beautiful sanctuary where the main elements will work together to give you all the nourishment, support, and pleasure you want.