Yoga Gifts for People who Love Yoga
If someone in your family or circle of friends is into Yoga, it's a no brainer to surprise this person with a Yoga gift. For Christmas, birthdays, Valentine's or just because… you'll never go wrong exploring what a Yogi would really like to get.
What is really nice is that it is a fact that any person with hobbies will actually use the presents related with their hobbies.
People with hobbies are more likely to get presents they'll actually use.
There are some Affiliates links in this post, including Amazon Affiliates. I may receive commissions for purchases made through them. Learn about our Privacy Policy here.
Yoga gifts list ready for you to pick whatever fits in your budget
I made this list based on what I would love to get, as the Yoga enthusiast that I am, but I also searched around to see what kind of Yoga accessories, and Yoga props are popular right now. These are Yoga gift ideas for any kind of budget from funny Yoga gifts to Yoga gift baskets. Maybe you're browsing for an approppriate Yoga gift for your Yoga instructor.
This is also a good list for a present for a friend or relative that needs some relaxing time, even if they're not hooked into Yoga.
1- Yoga Retreat Package
Youalways can go for Amazon Yoga gifts, easy and convenient way to shop but this is probably the one gift that every yogi has at the top of their lists. Spending a few days in a special location with the luxury of devoting time to yourself while practicing Yoga and taking your practice to higher levels, it's any Yoga practitioner dream come true.
Go to Book Yoga Retreats and narrow your search to find different locations, from local and simple, to exotic and far away destinations. Pick the duration of the package, the level of Yoga practice and length of time.
2- Yoga conference or Workshop
Very similar to a Yoga retreat, there are a huge variety of Yoga conferences and workshops all over the world. You can get more information about it here. Because it's a personal experience, the more you know about the person you're gifting and his/her Yoga experience, the easier it will be to find the right match.
3- Lululemon anything
Lululemon has become "the" brand that is intrinsically related to Yoga. The success of this Yoga and sports line of products is so big that every Boxing Day (only day in the year that you can buy discounted pieces) the lines outside of the stores are huge and people wait a long time for the opportunity of a bargain (sort of). If you have the budget (all pieces are expensive although extremely comfortable and durable), have no doubts that your gift to the yogi in your life will be a big success.
No matter what you pick, from leggings to bags, Yoga mats ot head bands, you won't go wrong. I guarantee that anything will be appreciated especially if you pick something different than yoga pants like this Throw it up Poncho Wrap.
4- Lavender relaxation eye pillow
I have this Lavender Eye Pillow and love it to use when I am doing Yoga at Home on my final relaxation. I keep it handy, close to my mat. The combination of the Lavender scent and soft pressure on the eyes, it is amazing. You can get it here and it won't break the bank.
5- A beautiful Yoga Book
A book related to Yoga or Meditation will be always appreciated by a Yoga practitioner. Pick something with a beautiful and inspiring cover like this one. You can also give it as an audio book.
6- The Yoga Bible
Talking about books, this is a more technical choice that most Yoga people like to use: Yoga Bible. It has everything and anything people that love Yoga need to know. 
Here are more of my favourite Yoga books:
Science of Yoga: Understand the Psychology and Anatomy of Yoga 
Yoga Anatomy – This is a must have
Asanas, vinyasas, full-color anatomical illustrations, and in-depth information, this book provides you with a deeper understanding of the structures and principles underlying each movement and of Yoga itself. From breathing to inversions to standing poses, see how specific muscles respond to the movements of the joints; how alterations of a pose can enhance or reduce effectiveness; and how the spine, breathing, and body position are all fundamentally linked.
The Yoga Anatomy Coloring Book: A Visual Guide to Form, Function, and Movement
This is a fun way to start your Yoga anotomy journey through the human body, focusing on the bones, joints, and muscles used in Yoga. Each anatomical feature is illustrated with a beautiful black-and-white drawing of a yoga posture, or asana, to color. Coloring the bones and muscles, and their names, will help you to remember their location and function, and 32 perforated flash cards enable readers to quiz themselves and study Yoga Anatomy on the go.
7-Keep Calm Tshirt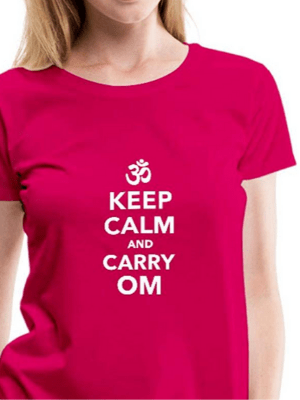 If you're not familiar, the sound of Om is many times used at the end of the Yoga practice and for that reason is very meaningful for people who are into Yoga. It is normally the last thing that is done in the class, the vibration that is created with everybody doing together is full of energy and good vibes.
Get this cute Tshirt in any color here. It's not expensive and it will be a big hit.
8- Zen Meditation Cushion
This Zen Meditation Cushion has been sitting in my wish list forever. I love the colour and how soft and steady it looks. It's an almost essential accessory for people who has a Meditation Space in their homes. Yoga and Meditation are intrinsically related and although you really don't need a designated space to meditate – any quiet place is good – it is very nice to be equipped to do this one special way to practice being in the present with Meditation.
9- Yoga Journal Subscription
This is considered America's #1 Yoga Magazine and is very popular for both the beginning and advanced practitioner. Yoga Journal focuses on the body-mind-spirit connection and its importance in personal development. Every issue promotes finding your life in balance with meditation techniques, practical at-home poses, nourishing recipes, and anything related with Yoga. A Yoga Journal subscription will be a nice and unexpected surprise.
10- Fruit Infuser Water Bottle
This is not only a pretty water bottle but something to be used not only at Yoga practice but anywhere. It just goes so well with any healthy lifestyle that you will probably want to get one for yourself as well. This one is so pretty and all equipped to infuse whatever fruit in the water.
11-Namaste Coconut Fiber Doormat
There's no better way to greet a visitor to the house than saying Namaste – the light in me greets the light in you – I can guarantee that any yogy will love this mat. It's eye-catching and hand-woven by artisans in India. Get this unique Namaste doormat here.
12- Personalized Yoga Mats
There's no doubt that someone that is into Yoga has his/her own mat already. I own mine for 15years, it was given to me by my daughter and although is a bit scratched here and there I wouldn't let it go for anything.
Well, maybe for one that had my name on it, like this one. And there is also a towel matching with the name on it.
13- Soothing the soul Wick candles
Meditation goes with Yoga like peanut butter goes with jam. To make the meditation experience even more pleasant, adding some soothing candles scents is a must have. By spreading just the right combination of microparticles into the air, wick candles will help to set the mood and bring a new aromatherapy vibe to the meditation.
This is a gift I get every year at Christmas as a tradition and I love it every time.
14- The gift of a Meditation Package
Meditation is now so popular that anyone can find good videos and apps of guided meditation for any taste and purpose.
The vast majority of Yoga lovers are into Meditation as well.
However nothing beats to owning a special Meditation package from the "Oprah and Deepak" series, which ranges in price around US49.99 for 21 days. The meditation can be streamed or downloaded using their app. I take it with me everywhere and love it. There are several different series and they all include a personal interactive journal, daily reflection questions, inspirational messages, mantras and centering thoughts.
15- Etsy endless Yoga Gifts Ideas
The Etsy Store is an amazing place to find any kind of Yoga gift. From, Tshirts, mugs, socks, mats, soaps and wall prints, you'll be able to personalize anything you want and even turn your own idea into reality since many of the artists will make that happen for you.
For Yoga gifts on Etsy start searching here.
16- Fitbit Versa 2
This Fitbit Versa 2 is an object of desire for many people who exercise regularly. It's a fitness Smartwatch with Heart Rate, Music, Alexa Built-in, Sleep & Swim Tracking. Amazing colors that will match any style,
17- Yoga Modern Statue
I have a warrior statue that I found many years ago on my desk. Looking at it, along with other small objects while I'm working, keeps me to feel grounded and true to my Yoga lifestyle.
It's just a small visual clue to keep the Yoga habit going, especially in difficult days when I don't feel so productive. I can guarantee your yogy friend will fall in love with this one. It's also a very thoughtful gift for your Yoga instructor.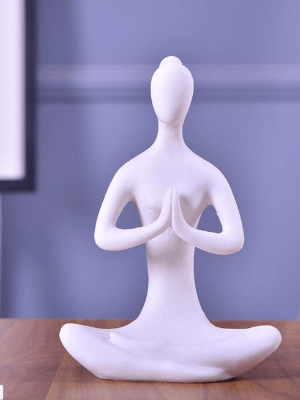 18- Chackra Bath Salts and After the Yoga class bath soak
These are the kind of gifts that many times people don't buy for themselves. It's the kind of personal luxury that once given by someone else becomes even more special and attractive.
You can find the Chackra Bath Salts here and the amazing After the Yoga class bath soak here.
19- Gift certificate for a massage
I know it doesn't seem too original, but trust me, your Yogi friend or relative will just love to open an envelope that contains a massage gift certificate.
There are so many amazing health benefits when you're into Yoga but as the practice becomes more advanced, it's more likely that some classes will cause some soreness. Nothing that a relaxing massage wouldn't fix.
Hopefully you found a good idea for the yogi in your life. As someone who loves Yoga and Meditation I made sure to find unique and creative ideas for all budgets and taste.