How to Make your House Husky/Dog-Friendly
 After owning several dogs, I finally got to the conclusion that the best way to bring a dog home is to get the house ready for the new furry friend first, and not the other way around. Turning your house into a dog-friendly home might be a challenge, making your house Husky-friendly is an even bigger challenge.
I am guessing that most people don't plan before the doggies arrive. We expect that the dogs magically become adapted to the home space and furniture and more important, we expect that they don't cause any damages and/or disruptions in the house.
And then… surprise! Our doggies are all over the place, like they're on a mission to destroy our living spaces! Does it sound familiar?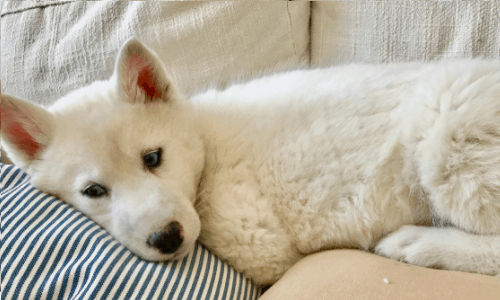 We have 3 Huskies. Yes it is a lot. Most of the time I just love them with all my heart, they keep me company all day long and make me feel loved and appreciated, looking at me with those sweet blue eyes. Other times, they seem to be determined to annoy me and tease me through my weakness: I like the house looking nice and clean!
You might me wondering: How is that possible? A clean and tidy home with 3 Huskies??
How to make your House Husky-ready or how to own a Husky in the city
Huskies are a challenging breed to own, if you live in the city. They're happier running free in the tundras of the Artic but have learned to enjoy a cozy sofa nap as well. If you're the kind of person that keeps your house spotless and freaks out with anything out of place, they might not be the dog for you.
They are medium to large dogs with beautiful fluffy tails and lots of energy. When they are young, those tails and their super athletic bodies get all over the place. They don't do well in confined spaces. They need a large backyard and space to run and play and you do need a Husky checklist!
1- Get ready for all the Husky S
hedding
One of the first thing that comes to mind is that these adorable and gorgeous Huskies shed a lot, twice a year normally. It is not a constant shedding because they have to be well equipped for the winters with their thick coat. Spring comes and then the shedding is abundant. The solution for Husky shedding is to get your best brushes ready and assign a part f the house to do that. Equip your laundry with a powerful vacuum, close the door and try to brush your Husky daily. One of our Huskies allow us to brush him with the Dyson attachment for brushing pets. The other two, it is a bit of a struggle even with this tool.
2- Plan whether your Husky will be allowed on the sofas or not – I dare you!
How to make your house husky/dog ready when you love and value your furniture?
When we adopted our first Husky, Turbo, we got him home (he was 1 year old) and he was already "well trained" on going up on the sofas, so that was the first thing he did, of course. Jumped up, adjusted a cushion with his nose and got himself comfortable. There was no way we would be able to change that, which we didn't. Two years later Stella came along and up she was on the sofas as well.
My solution was to get a good collection of simple white throws to protect the sofas. However, I had to do lots of vacuuming and washing the throws weekly.
 Here's the deal: there's no way you will skip vacuuming every day when your own a Husky, or 2 or 3!
When we got our third Husky, Mary, we decided it was time to stop all of them from being up on the sofas and chairs. By then it was easy to teach Turbo and Stella, and they learned right away, but Mary is still a struggle. We keep blocking the chairs with objects and she jumps on the sofa for fun because she knows she is not allowed. She is still one year old and we're sure by next year she will be way better. LOL or so we hope! 
Whatever your decision to allow your Husky on the sofa or not, we've learned that the best material for sofas is leather or faux leather because dog hair doesn't get trapped and it is easy to clean. 
Related: Homemade food for your Huskies
4- Protect your Hardwood Floors from Scratches
This is a big contender if you value your hardwood floor. We have beautiful walnut floors that were one of the features of our house we fell in love with. Moving in we knew that the floor would be scratched no matter what, but we tried a few things:
protecting with as many area rugs we could, which is effective but hid the beautiful wood and also made it harder to vacuum.
keeping their nails always short, which means getting them trimmed every 3 weeks. This is the best solution of all but you really need to keep track of time carefully. With 3 dogs is not so easy because also it seems their nails grow in different time frames! How crazy is that?
For more than a year we tried these dog nails claps. They are made of silicon and it was a great solution for a while, but putting them (with a special type of glue) on takes some practice. Our vet didn't like the idea and explained that sometimes moist gets trapped inside the silicone and the nail could become soft and unhealthy. Sure enough, that happens with Stella and that was the goodbye to the silicone protectors. If you only have one Husky is easier to keep track of these protectors and replace them asap.
What's the bottom line:

The best way to protect your hardwood floors is keeping your Husky nails always short, meaning, trimming them every 3 weeks. For that job find your best nail clipper.
Find more information about which are the best hardwood floorings for your house when you have dogs here.
5- Install high fencing in the backyard to keep your Husky from running away
Huskies are famous for running away. We have a few incidents that happened all over these years and it was not fun. They didn't run away from our backyard though. We have a tall fence installed just because of them. Additionally, we reinforce the bottom of the fence with trellis, that goes down a few inches because Huskies can dig their way out.
Huskies are explorers, curious about everything and love their freedom. Learn more about them in this post: 21 Reasons for you to own a Husky . And Huskies are runners, they have enough energy to pull sleds and can drive you crazy if they're bored, they do need to be exercised.
Living in Canada, in the very cold days, we can't always walk them. Our backyard is not huge but large enough for them to run and play.
6- Decide whether your Husky will be allowed on the beds or not
If you're a dog lover you probably have made your mind about allowing your dogs on the bed. Back in the day when we had German Sheppards, we never allowed them, for one thing, they were large dogs. They were perfectly happy sleeping on their beds by our bed.
Turbo comes along carrying all bad habits he got from his fosters homes and jumped on the bed immediately, looking for a favourite pillow. Being a half Husky he has the goofiness and sweetness of the breed and loves to cuddle. You're guessing right if you're thinking that we allow all three of them on the bed. It is a ritual, all three together on the bed while they wait for us to get ready to go to bed. and then each goes to his own bed for the remaining of the night. Actually, my husband has built a bed that would fit 2 of them but it is currently being used exclusively by Stella, who sees herself as a self-entitled princess.
Because we just love this night routine with the 3 Huskies on the bed, my solution is to change the bed covers every 3 days. I keep a stock of other 3 IKEA covers always ready to be replaced.
There is still the problem of dog hair on the carpet of our bedroom and the solution is to run my Robot every day. Easy and fast. It is not the most expensive one out there but it has been working fine for my purposes.
Related:  How to keep your House clean when your have children
7- Keep a good supply of strong toys to get them away form your furniture
You don't want your Husky getting bored, especially in their 3 first years, when their energy is endless. They have strong bites and you need strong toys. However, their favourite toys will be stuffed animal and dolls, the ones they will shake the life out of it as if they had hunted them down in the wild and now are killing them like precious own preys.
With 3 Huskies we go through tons of toys. One cheap solution is to give them empty plastic bottles….
Ropes are super durable and are a big hit for tugging. It is a fun DIY project , if you like crafts.
Buy in bulk, like these.
8- Get the house ready for rainy and messy days
Having a designated area of your house for your dogs is not a luxury anymore. Pets are becoming more and more the company of choice of many people and according to The Stastistics Portal, as of March 2017, a total of 89.7 million dogs was estimated to live in U.S. households as pets. In my opinion is more than time for builders to start adding a dog-washing station to their designs. If you have the means to incorporate these adorable and practical dog facilities, you will be really making your life with your dogs easier and more pleasant.
Related: How to clean your home when you can't face it
9- Find ways to limit your Husky within one area, but with style
Up to when your Husky is around 2 1/2 to 3 years old I wouldn't recommend to leave him alone, loose in the house when you're away. This is probably true for any breed, but the larger the dog, more damage they can do in your house when you're not there.
In our experience Huskies don't do too well crated. We prefer to have an area of the house where we can control the 3 of them, which we do, by leaving them in the front entrance hall, by the front door. They can look through the glass, the floor is tiled, nice and cool and easy to clean. It is a large enough area for the 3 of them to sleep and wait for us because this is what they will be really doing. We leave water bowls and would leave also their beds if Mary, the younger wouldn't eat them all. Maybe in the future…
We installed a gate, at the bottom of the stairs, which is not aesthetically beautiful, but works. We have the Furbo camera positioned on the other side of the gate and it has been lots of fun watching them, talking to them and sending them cookies.
There some cool ideas of gates that will not look ugly, like these:
10- Prepare everyone in the house for their new responsibilities with your new Husky
Probably this is the most important point of all on getting your house dog/Husky-friendly. The arrival of a puppy or grown dog is always a happy event for a family. Everybody gets excited and wants to play and cuddle with the new furry friend.
However, if you have a chance to talk with all the humans in the house and get around to make a common list of duties and arrangements in which everybody can be involved, the easier your life with a Husky will be. It is a long term responsibility to share your life with your Husky and you better be ready.