How to Keep your House Clean with Dogs – Huskies
If you have pets at home you know how challenging is to keep your house clean. We love them and normally they take over our homes and our hearts. A clean house with pets is a luxury that takes some work and planning but as anything in life, once you get a hold of it, it becomes part of your routine.
There are lots of ways to keep your house clean with dogs and make this job easier. Discover 13 new ways to keep your hose clean with your dogs.
(There are some Amazon affiliate links and I may receive commissions for purchases made through links in this post. Learn about our Privacy Policy here.)
Related:
How to get motivated to clean your house all the time
How to stop procrastinating to clean your house
1 – Shop for furniture that is pet-friendly
If possible, look for furniture made of a material that is easy to clean and Scotchgard protected. There are now a big variety of washable area carpets in all sizes, colors and materials.
The trick is to pick the right furniture color, that ideally will match your pet colour, so it doesn't drive you crazy on the days you can't clean. For example, leather sofas are way easier to clean and they don't attract as much dog hair.
To keep your house clean with Huskies, the colour of choice for furniture is white. That's what we do, with our 3 Huskies.
2 – A powerful vacuum is a must!
We have this one. It is resistant and powerful for the amount of dog hair that accumulates all over the house, and I mean, it is a lot of dog hair, with our 3 huskies.
I also heard very good things about this other one, specially for carpets.
For downstairs, after the third dog came along, I use another one, wireless and light, on the hardwood floor. The battery is more than enough to do all floors, I never ran out of battery. I keep it always plugged in, easy to reach, it is a breeze to vacuum any unexpected mess as well.
However I am really, really considering investing in this one. It is expensive but I think with the now 3 dogs would be very nice to have it running all over the house once a day. If you want more information about the best vacuums for cleaning your home if you have pets, find more here.
A cheap way to do a deep sofa and carpet cleaning is using a brush before vacuuming. It is a lot of work but it works very well for a seasonal cleaning. I wet this brush with a mix of water, white vinegar and 1 tbs of clothes softener.
Related:
3- Get the best pet broom ever
You really have to get the best pet broom for pet hair, which is this Pet Hair Remover Raker. It pulls unwanted hair from deep within carpets and rugs and has an eextendable four foot long pole. It is said that works better than a vacuum. It is on my wish list.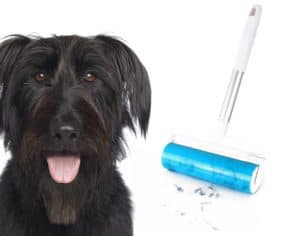 4- For your sofas and chairs use a Reusable Large Lint Roller
If your pets have long hair like mine, you do need this Reusable Lint Roller. This thing is like a lint roller on steroids, definitely a pet parent must-have. With a 3′ long handle and a giant, super-sticky roller, it works sort of like a duster, only it really traps hair. It is perfect for furniture, and also for low-pile carpets and rugs.
5- Extra mats for the door are a must, for all your doors, it is the start to keep your house clean with pets.
Keeping extras mats easy to reach will help you to wash them often. Cheap and basic ones are easy to be replaced, don't clutter and will also help on a quick mopping if you need.
6- Keep a towel close to the door for those rainy and muddy days.
I keep a cute dog towel but I also I have this pet drying glove always by the main door. It has a loop with a buckle to easy hang in the door. The must have tool for dirty paws though, is this amazing and simple Portable Paw Cleaner.
I can't rave enough about this, we use every day in the spring and fall. Fill with lukewarm water and a few drops of this amazing dog shampoo with Aloe Vera. Dip the paws, one at a time and wipe with a towel and you're good to go. There are several different sizes.
7- Brush your pets every day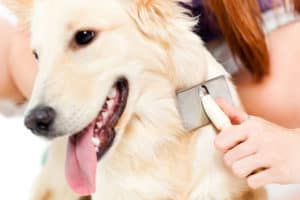 I know, it is not easy, but if you do it every day the amount of pet hair inside your home will be considerably less. It only takes 10 min and saves a lot of time and effort in the cleaning. Of course, doing outside is always better.
Once a year, before Spring arrives we take our 3 Huskies for a Furminator Bath at the pet store. It is expensive but with 3 dogs shedding profusely at this time of year, when they lose their winter coat, I have no option.
If you have only one furry dog is very doable to do at home using the the Furminator Shampoo and Conditioner. It is the same product that they use in the pet store. Our dogs come home with a beautiful shiny, soft and fluffy coat.
8- Keep their beds or cushions clean and vacuumed regularly.
It adds to the sense that your whole house is clean and tidy. Add some white vinegar to deep clean all your pet's belongings. In the spring and fall with all the mud I add the ever efficient odor remover to the loads.
Because one of our dogs is still very young and loves to chew on her bed, I use a strong bed cover which is easy to wash. There are tons of other materials out there, depending of the size and personality of your dogs.
Special Tips on How to keep your house clean if you have Huskies
There are some things to consider if you own Huskies and want/like your house clean and styled:
1- They normally shed twice a year, profusely. Nature is so wise that you will see their beautiful fur coats thickening up before winters. However in the spring that coat comes off to keep them cooler for the summer.
You can see the chunks of fur coming out of their bodies and you can help, plucking it. This shedding lasts for 2 or 3 weeks. Brushing daily is a must. Yes, it makes a mess in the house.
2- After the shedding phase and lots of brushing sessions, it is time for a bath. At this point we take our Huskies to a Pet Store to be professionally bathed, brushed and groomed. They come home gorgeous, smelling good with a soft and beautiful coat! I normally bring my favourite dog shampoo I get from Amazon for the bath and we pay extra for a long brushing session.
3- Because the shedding is seasonal wait for the end of shedding to do your spring cleaning. It took me a few years to understand this. I wait for when all dogs are done with the shedding and have their baths, to start my spring cleaning.
In our case it does take a good month – joys of having 3 super furry friends -. If I am washing curtains, for example, I wait to hang them up again, after the dogs are done.
4- Vaccuming all your Huskies beds every day doesn't take much time and keep the dog hair from spreading all over the place. We actually have a third vacuum, one that we use to clean the car. This is the one I use to vacuum our Huskies beds because it has a great suction. It is similar to this one which is cordless. Mine is not, it is an older model, same make.
5- The one solution I haven't tried yet but heard a lot about is this amazing solution to contain the shedding of the dogs, it is called Shed Defender and it is an amazing way to avoid the mess during the heavy shedding season all Huskies go through every year.
It must be a great way to take the furry ones in the car or to protect guests from being covered in dog fur in your house. It is recommended as a solution for anxiety and a great option as a substitution for uncomfortable cones used after surgeries.
There is no way around to cleaning, just do it!
Having Huskies is a great joy and fun but it does take lots of work, specially if you like you house clean and looking good. I do it every day, there is no option, they are part of the family and they do own our hearts. If you are considering getting a Husky, please make a conscious decision considering if this breed is a good match for you and your family routine. Find more information about Huskies here.
Related:
Keeping your home clean with your pets as part of your family is not easy. For me, I make sure to get all tools that I can to get the job done but more important is to do a little bit every day to avoid the overwhelm of a very messy house.
After many years we decided to keep the dogs out of the main sofas. It took some training time but now everything is easier in the living room.
In the cleaning mood? You might also like to check this post about how to clean your house when you can't face it.
Let me know what are your solutions to keep your home clean with your pets. Having 3 dogs I do need all ideas I can get!