You love baking for the holidays, you grew up seeing your mom and grandma spending days baking cookies and cakes for Christmas, it's part of what Christmas tradition is for you and every year you try your best to do the same.
The thing is that is always a struggle finding the time, when the kids are around to have fun in the kitchen, without messing out your whole day with all the cookies prep and cleaning up. Cooking is fun, cleaning up not so much.
Related: How to make your healthy daily cooking easier
I found the solution to make the holidays baking easier – actually, doable – after watching my neighbor, who has 4 kids. I started doing the same and now I'm on the right track:
Amazing Tips to make your Christmas baking easier this year
1- Pick only 3 types of cookies and make sure that only 2 will require decoration.
2- A little planning goes a long way. Schedule for when you'll be able to do it, don't try to squeeze in, rushing to bake cookies is not fun, it's when things normally don't go well.
3- Go for recipes that have been tested and come from reliable sources. Sometimes, trying to repeat your family's favorites can make things too complicated for you.
Find YOUR OWN recipes that will fit with your schedule.
4- Get your groceries list together. For the 3 recipes of this post, you'll find the shopping list ready for you.
Tips to make your Christmas baking with your kids insanely easy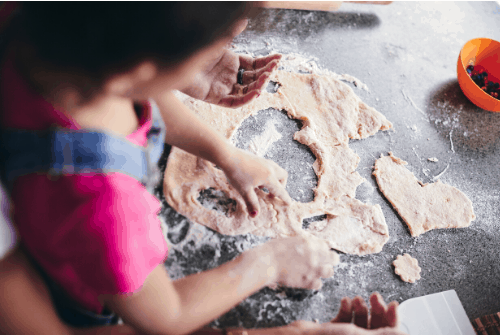 1- Don't get the kids involved in making the dough, unless they're old enough to take care of it – cleaning up included –
2- Make the dough, by yourself, in a quiet evening, ahead of time. Doughs can last unbaked in the fridge for at least…. days.
3- Plan to do your baking in 2 different days, if possible: one day for the baking and another day to do the decorating, which is normally the really fun part.
4- Explain to the kids that baking is fun but also includes cleaning up and get them involved in the whole process. Allow enough time for both.
Related: Eggnog Muffins for Christmas Breakfast
Three Essential Christmas Cookies Everybody will Love
Chocolate Shortbread Cookies with pretty icing – 2 dozen cookies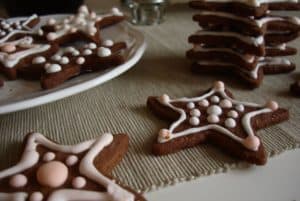 This is a recipe from Anna Olson, it is amazing how the addition of cocoa powder makes the dough delicate and nice to work with.
1/2 cup unsalted butter at room temperature
1/4 icing sugar
1/4 granulated sugar
3/4 all purpose flour
1/4 tsp salt
2 tbs cocoa powder (to keep the dough delicate and tender)
Pre heat oven to 325.
Beat the butter and sugars for a couple of minutes until is light and fluffy. More beating is always better!
Add the dry ingredients and mix more in low speed. Let it chill in plastic wrap for at least one hour. It freezes very well too if you want to make the dough in advance.
Dust with a touch of flour on your surface and start rolling it as thin as possible, almost 1/8″ thick. Now, time to get creative and have your cutters out. The nice thing about shortbread dough is that there will be no waste, roll the dough out again as many times you can.
Line up 2 baking pans with parchment paper, the cookies can be arranged quite close to each other. Bake for 13 to 15 min. Because they are brown, check if they are done by lifting up from the pan, if they lift it easily without bending they are done.
Related: Light and Healthy Desserts for Christmas
Royal icing
3 tbs meringe powder
6 tbs warm water
4 cups sifted icing sugar sifted – don't skip this step
Mix all the ingredients in the mixing bowl. Start beating on slow speed and change to fast.
Adjust with more warm water or icing sugar. It is a bit tricky to get the right consistency for the decoration, pay attention to the consistency of the icing when you stop the mixer, it should collapse nice and slow.
Divide the icing in different bowls and add your pastry coloring. Let the fun begin! Just remember that the cookies should be totally cool before the decorating.
Create parchment paper cones to put the royal icing in it if you don't have many plastic bags and tips.
To add a second color of icing let it rest for one hour and it will be ready for a layer in a different color.
For more royal icing decoration tips go to: How to work with royal icing
Christmas Chocolate Crackle Cookies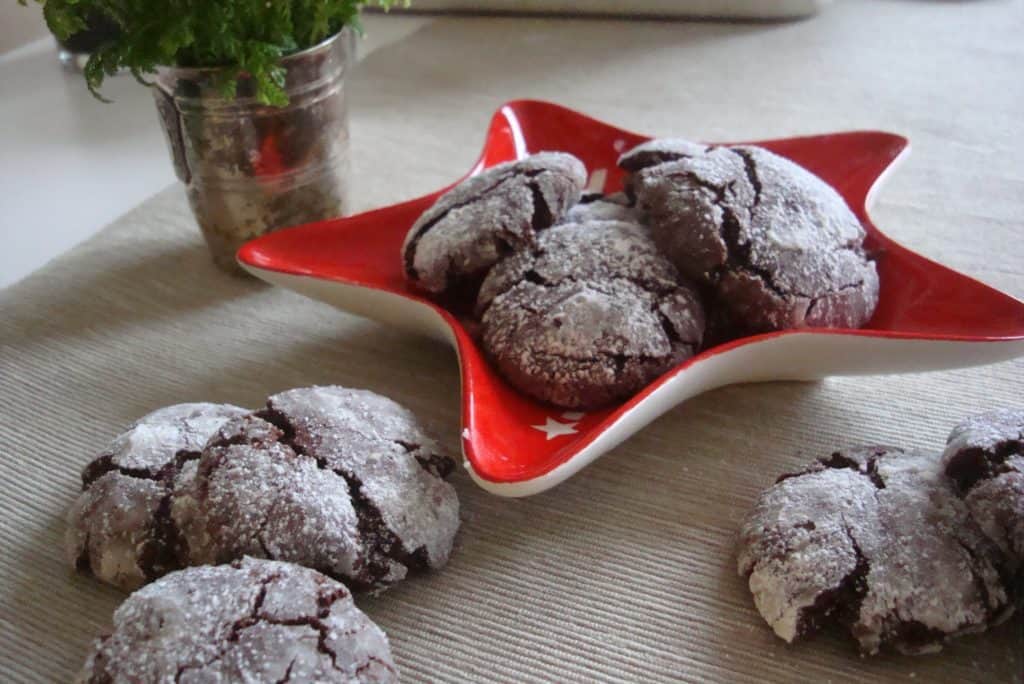 Definitely my favourite chocolate cookies, they're decadent, soft and a must- have for the holidays. Double the recipe for a larger batch.
4 ounces bittersweet chocolate, finely chopped
3/4 cups all purpose flour
1/4 cup unsweetened cocoa powder
2 tsp baking powder
1/4 tsp salt
1/4 cup butter at room temperature
3/4 cups packed light brown sugar
1 large egg
1/2 tsp vanilla extract
3 tbs milk
For coating the cookies
1/2 cup granulated sugar
1/2 cup icing sugar
Melt chocolate in a heatproof bowl set over a pan of simmering water, stirring. Set aside and let it cool.
Sift together flour, cocoa powder, baking powder, and salt in a bowl.
With an electric mixer, beat butter and brown sugar on medium speed until pale and fluffy. Mix in eggs and vanilla, and then the melted chocolate.
Reduce speed to low; mix in flour mixture in two batches, alternating with the milk. Divide dough into two equal pieces. Wrap each in plastic; refrigerate until firm, about 2 hours.
Preheat oven to 350 F.
Divide each piece into sixteen 1-inch balls. Roll in granulated sugar to coat, then in icing sugar to coat one more time. Space 2 inches apart on baking sheets lined with parchment paper.
Bake until surfaces crack, about 14 minutes, rotating sheets halfway through. Let cool on sheets on wire racks. Cookies can be stored between layers of parchment in airtight containers at room temperature up to 3 days.
Gluten Free Almonds Cookies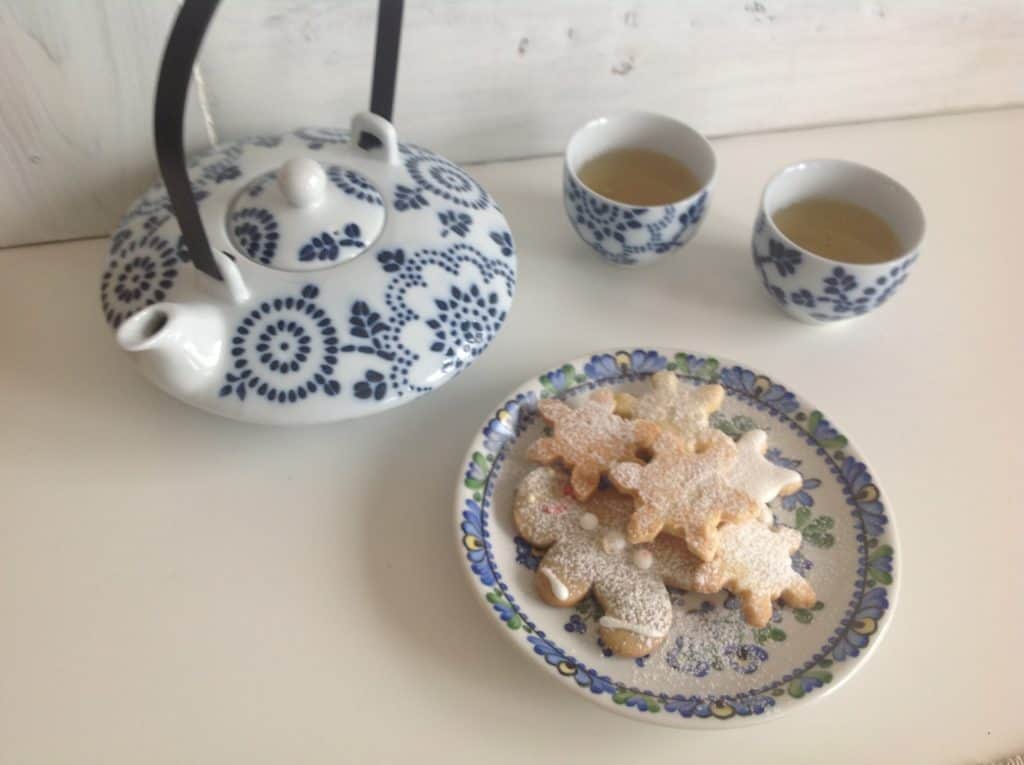 The easiest of the 3 recipes, these cookies take no time and are very easy to decorate.
2 cups ground almonds
1 cup soft butter
1 1/4 cup icing sugar
1/2 tsp almond extract
2 cups all-purpose flour (for gluten-free use gluten-free all purpose flour
1/4 tsp salt
Line 2 baking sheets with parchment paper or grease. Heat oven to 325F.
In a large bowl beat butter with sugar until fluffy; beat in almond extract. In a separate bowl whisk together the dry ingredients.
Combine it with the butter mixture, mixing well and kneading with hands if necessary.
Open the dough and cut it in whatever shapes you like 1/4 inch thick. Bake on top and bottom thirds of the oven, rotating and switching pans halfway through, until lightly golden, 16 to 18 minutes.
Let cool on racks for 5 min. Store in airtight container, layered between parchment paper for up 5 days of in the freezer for 3 weeks.