Strawberry and Chai Sorbet (without an ice cream machine)
I've been experimenting with ice creams and sorbets all through this summer and loving it. I thought it would be my first step towards making my mind about buying an ice cream maker. I had lots of fun and my food processor did the job. So far it was very easy to make this Strawberry and spiced tea Sorbet without an ice cream machine.
(There are some Amazon affiliate links and I may receive commissions for purchases made through links in this post. Learn about our Privacy Police here.)
But in case you're like me, searching for one, I've been researching and it seems I am between this Cuisinart that has tons of good reviews and a very reasonable price and this Whynter ICM-200LS Stainless Steel Ice Cream Maker, which is way more expensive but is a compressor model, meaning you don't need to put the container in the freezer. Reading the reviews and loving ice cream like I do, I am almost ready to invest in this one. I will be able to use lactose free cream and that would be a game changer.
food – 
Subscribe to get the Weekly Meal Plan Printable
Get our Everyday Cooking newsletter & instant access to the free Printable Weekly Meal Planner
I was also very successful with this amazing recipe of Creamy coconut popsicles, which is something I am making every week this summer, again without any ice cream machine.
I am a big sorbet fan. I find it is a great way to get cooled off with the goodness of chilled fresh fruits. I just love the fact that there is no fat at all, which makes an awesome way to end a BBQ meal, for example. Just to clarify, the Sorbet version that has cream and fat is called Sherbet, is made with fruits and cream.
It is really easy to make this sorbet but it takes time to freeze. The spiced chai adds a surprising twist in the strawberry mix, subtle enough to become refreshing and sweet. And the beautiful colour brings the joyful summer feeling.
Even if you don't like too much sugar in your Sorbet, make sure to not change the recipe direction. You need the sugar to get the right consistency in your Sorbet. There isn't such a thing like a Sorbet made with sweetener.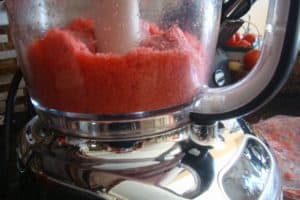 Strawberry and Chai spiced tea Sorbet
4 to 6 portions
adapted from Style at Home Magazine
1 chai spiced tea bag
1/2 cup boiling water
1/2 cup granulated sugar
1 lb fresh strawberries
Steep the chai tea in boiling water for 15 min. Remove the tea bag and discard. Put the sugar and tea in a saucepan and stir until sugar is dissolved, boil for 1 min. Let it cool at room temperature.
Hull and quarter the strawberries and place in a blender or food processor along with the steeped tea syrup and purée until the mixture is totally combined.
Chill the mixture in the fridge for 1 hour. At this point you can pour the mixture into your ice cream maker and follow the manufacturer's instructions. Or, pour the mixture in a large freezer bag and freeze until solid, about 4 hours.
I placed the bag in a cookie pan, laying horizontally for faster freezing.
Break the sorbet in smaller pieces and place it in the food processor, stopping the machine occasionally and pressing the mixture toward the blades. Continue to process until the sorbet spins smoothly with a light, fluffy texture. Serve straight away or freeze in a covered container for another couple of hours until firm.
It is also a good idea to use different tea infusions with the strawberries. For this particular batch I used a fruity tea, from this tea sampler I got.
On this note I also tried to make this amazing Strawberry granita, a recipe of Jamie Oliver but I didn't take any pictures. Give it a try if you like frozen strawberries.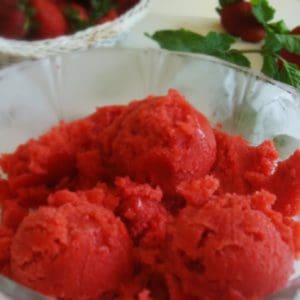 Related:
Avocado Dessert – Keto dessert
Papaya, ginger and coconut smoothie