What are the benefits of owning two dogs?
Maybe your nest is about to get empty, your dog is getting older or you're just ready for some added fun in your life, the idea of owning a second dog is growing in your mind.
Bringing a puppy or a grown dog home when you already have another dog is a totally different experience than when you got your first dog by himself. The difference between owning one or 2 dogs depends on many things and it is important you're aware of the facts before making your decision of owning more than one dog.
Although it is always a lot of work to start your relationship with your new friend, your puppy/grown dog will learn his routines twice as fast. There are many benefits of owning two dogs, in our case, owning two Huskies  added an amazing layer of joy and fun to our life.
Should you get a second dog?
(There are some Amazon affiliate links and others as well and I may receive commissions for purchases made through links in this post. Learn about our Privacy Policy here.)
In fact, currently we have 3 Huskies. You can meet them here.
Although sometimes I think we are crazy, most of the times I enjoy every moment I get to spend time with them, interact and look after them.
We learned so much about owning two dogs which really made adding one more a walk in the park. Well, not quite.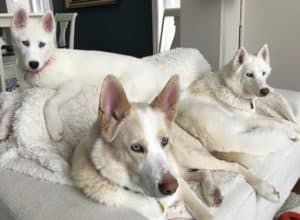 What to consider before making the decision of owning two dogs
Research the breed of the new dog
If your second dog will be of a different breed, do your research first. All dog breeds have certain personality traits that generally define their character and behaviour.
You already know about the characteristics of the dog you have, so what you need to do now is find another dog that will not clash with his personality style.
If your dog likes to be active, you don't want to pair him up with a dog that prefers to sleep 16 hours a day. On the other hand, if you have a lazy dog, a frisky puppy from an active breed is hardly likely to be a good fit as the new addition. The new friend will just end up annoying your first dog.
Let the new dog bond with you first, if possible
A word of warning is that it is usually better if you could arrange a way to have the puppy/dog bond with the human family first, just because she/he might bond with the other dog  in a very deep way, meaning you're second in line.
If you like your dogs interacting with you a lot, be aware of this. That happened with us when we brought Stella, our second one, home. We never thought of it. She immediately bonded unconditionally with Turbo first, we were never as important to her as Turbo was. To this day she is a bit stand offish with us, rarely asking for cuddles. She likes to be close but keeping her distance.
With our third one, Mary, we took the two other dogs to the kennel for a couple of days and bonded with her first. it was perfect, she is sweet and outgoing with everybody and she is always ready to interact with us, which we love!
Useful Questions to ask yourself your decision of owning 2 dogs
Do I have room in my heart, in my home, and my life for a second dog?
Do I (my family – partner) have time and patience to dedicate to two dogs?
Is my existing dog stable?
Do I have the financial means to commit with the cost of a second dog?
What is the real cost of woning 2 dogs?
Do I have a plan for when I go away, where will they stay and what is teh cost of it?
Are my family and I willing to do the extra work of cleaning the house and after them?
Have I done my homework researching the breed and conditions I will offer or is this an impulsive decision?
Benefits of Owning Two Dogs
1- Introductions are normally easy and fun.
If your second dog is the same breed as the first one, introductions should be fun and easy. Unlike people, your dog and the new puppy or grown dog will get to sniff each other for a few minutes and the meet and greet is done. It doesn't mean however that they will get to be friends immediately. You will have to intermediate and supervise all interactions after that for a while.
With our third one, Mary, we took the two other dogs to the kennel for a couple of days and bonded with her first. it was perfect, she is sweet and outgoing with everybody and she is always ready to interact with us, which we love!
2- The new puppy/dog will get adapted to the house routine very fast
The puppy/new dog will learn all the routines twice as fast. Just because he/she will be following the older dog around, will save you lots of time and energy. It is really amazing how fast they get adapted to the house rules and schedule, just by imitation. In the first day of our new puppy she was already drinking water from Pet Water Fountain that took our two other dogs almost a week to get used to it.
3- Entertaining and exercising will be way easier and fun
The puppy/new dog will be entertained a lot by playing with the older dog. Puppies need lots of activities and play time otherwise they get in trouble, destroying furniture and disrupting the house.
They play hard and then sleep hard, like babies. The two dogs will get into this routine pretty fast.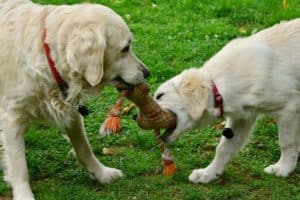 4- Training 2 dogs will be more effective
The puppy training will be, again, happening much faster, if you are into it. Puppy or grown dog will have the example to watch from the older friend. For example, the sit command that you use with your older dog will be imitated by the puppy very fast. Handing out treats will make them both to sit, wait and follow the command. Way too adorable to watch too!
Our puppy learned very fast how to bang the the door bell to ask to go outside.
5- House breaking for the puppy will be way easier
That doesn't mean you don't have to do your part on training the puppy. The one and only secret to teach a puppy where to pee and poop is taking him/her out every hour. It is that simple and I know it is not simple. You need to keep a pee pad always available or you might prefer this potty training tool but the truth is that training your puppy will take time and patience.
However taking your puppy out frequently along with the existent dog will speed the process and teach the puppy what to do.
When we make the decision of having a puppy, we should be sure that there is availability of time to dedicate to him/her. A puppy really can't be left alone for long hours. Ideally, you should only start leaving him/her alone for only 30 min in the first weeks and gradually increase the time.
In a short time you won't need to even go out with the puppy, he/she will know exactly what to do.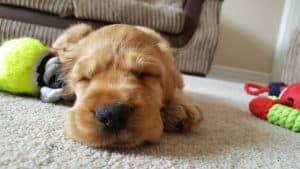 6- Your two dogs will never feel alone when you're not home
This one is a huge benefit of owning two dogs for us. As we all know, dogs are pack animals and they strive when they are in a group. They feel protected, happy, their lives are complete.
The puppy/new dog will not feel lonely and your older dog will be beyond happy for having a companion. You will feel that you're making your dogs happier. How great it feels when you can find ways to give back all the love he gives to you.
7- You will be adding endless fun and entertaining to your life
Just watching them play, participating in their little routines and observing their different personalities and traits you will have a blast. It is beyond adorable to get them together for a walk, for play time in parks or enjoy an afternoon nap having them around you.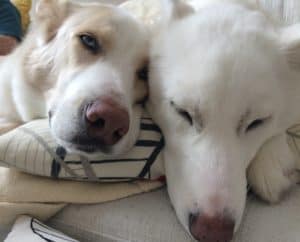 8 – The extra cost of owning a second dog is a treat you're giving to yourself
There is no argument against the fact that owning more than two dogs will add up in expenses. It will. However as dog lovers you will be probably more than ready to swallow the cost of this added source of joy to your life.
It is not for everybody. There are lots of ways of saving when you buy treats and food in bulk. Pet stores are super sympathetic to dog owners with more than one dog and run sales frequently, which helps a lot.
You might also find that feeding them home made food is a good match for you and a way of saving money too. If you're still in doubt ask yourself if you will be doing this as your treat.
9- You will be happier with your larger furry family 
If you are a dog lover and I am assuming you are, or you wouldn't be reading this, I can guarantee that the second dog will add so much joy to your life. You will never go back on owning only one dog!
Consider all the costs of owning two dogs
Food – Buy-in in bulk is always cheaper or consider making Home made dog food
Pet Insurance – Do some research about the pros and cons of having your dogs in a Pet Insurance Plan
Baths – if you take them for regular baths at a pet store, a cheaper solution might be this amazing tub. It is on my wish list!
Trimming their nails – it has to be done once a month
Kennel costs in case you don't have any other way to leave them when you go away
Benefits of Owning two or More Huskies
Owning two or more Huskies is very common for people who love the breed. They're pack oriented and just strive with companion. They are high energy and exercising them can be difficult. Owning two Huskies makes this task way easier, they play and run and spend all that energy interacting with each other. You can learn more about them here.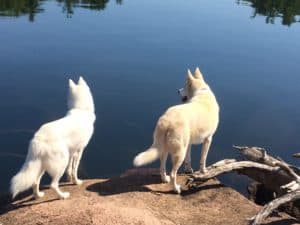 Owning two or more dogs is not for everyone, as in fact, owning one dog is not for everyone either.
It is up to you to make sure that you are taking all necessary steps to make the transition smooth for each animal. Owning furry friends takes lots of responsibility and it is a commitment for the duration of the dog's life.
It takes devotion, endless love and lots of work. But it is all worthy when you get home and are greeted by a pair of tales, happily waggling at you, looking at you as you're the highlight of their days.
And you are! They will become one of the highlights of your days too.
Related