While having a clean house is a daily goal for many of us, the truth is that it takes work and discipline to make it happen. Busy life gets in the way and complaining about it, seems to be the option that many of us choose. I am one guilty of this, myself. 
When it comes to "tidy home, tidy mind", some people just give up on it, others over react becoming obsessively focused on cleaning. 
Some, like me, try to find ways to understand the motivational aspects of the mind to be able to do a better job of keeping the home clean and neat. 
In my case I do feel happier when the house is clean and neat, no doubt. 
With 3 Huskies in the family, the challenge is real and intense. I am always trying to find new ways to keep the house clean with the dogs all over our house and make it as easy as possible. 
Whatever the reason, it's never easy to find motivation to clean the house on everyday basis. 
Can a clean house really make you happier?
It seems so. Psychology of cleaning the house shows an intriguing correlation between the levels of womens' descriptions of their homes and their patterns of cortisol and depressed mood, as shown in this 2010 study by Darby E. Saxbe and Rena Repetti. 
Even without any scientific evidence, we all can corroborate with the idea that a clean space adds a layer of emotional comfort to any situation. Beautiful, clean and bright homes is why many of us are into watching home design shows and dreaming of ow to make it happen. It's human nature, visual order and harmony is appealing and nurturing. 
What are the mental benefits of getting into the habit of keeping your house clean and tidy?
1- The sense of order allows for better rest at home
Our brain screens the space we're about to enter very quickly and send us different signals of acceptance or disregard. 
It's not rocket science, most of us love to get into a beautiful Starbucks, staged to make us welcome, designed to make people want to stay and consume their coffee. 
It's a mix of factors that is appealing to the senses, the coffee aroma, the intimate decor, all conspiring to get us ingrained and welcome in their sophisticated coffee culture. We feel we're important as clients, we enjoy the whole atmosphere and we pay for expensive coffees without hesitation. 
The same phenomenon should happen in our homes. When we get home after a day at work, we should always feel belonging to the space that we have created. From the home design we chose to the choice of adding positive energy in there, a clean home will make us feel good, especially when we're tired. 
The point here is: cleaning your home should be done with the purpose that you're doing it for your "own well being" as oppose to cleaning the house because is "what it needs to be done".
After getting into the habit of maintaining your house clean, all the little actions that are part of the task will be automatically triggered, it's your brain sending the signal of how good it feels to organize the space in which you live. 
Related: How to Stop Procrastinating to do your daily home cleanings 
2- Productivity increases in a clean space
If you work at home you know how difficult it is to focus when you feel that there are mess everywhere. Not only you're blaming yourself for it and therefore not totally focused, but many times important documents get lost in the confusion and you spend tons of time looking for it. 
It's the same principle that rules a chef's kitchen, they need a clean and organized space before they start to cook.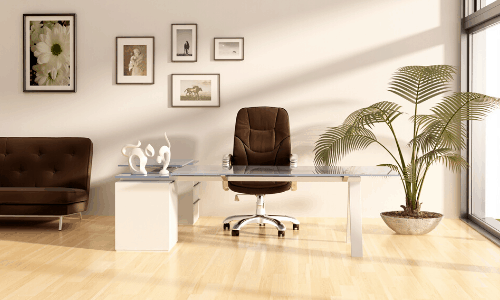 3- The cleaner and more organized the space, the more likely you will keep it this way for longer
It's just human nature to follow the "unspoken rules" that surround you. If you're in a neat space you'll think twice about leaving you coffee mug around the desk. 
Public spaces that are always clean will remain clean longer because people will think twice of letting litter behind. 
4- It's more inviting for people who hang out in your house
People will feel welcome at your place. Unclutter, clean, functional, the sense of peace and comfort that you enjoy with your family will be extended to your family and friends. 
You will also be sending a powerful message about who you are in your space, your sense of self discipline and people will read into that. It will empower you. 
5- You will feel proud and accomplished
That's the best part for me. I just love to sit to work and feel that everything in the house is clean and well organized. It's a sense of achievement and an incentive to keep doing it. It's like exercising, it takes some will power but you feel great afterwards. 
It can go even deeper, this empowerment can lead you to be able to achieve many other things. Your brain feels good in the space, is free to become more creative and productive. 
6- According to the Psychology of cleaning, tidying up can calm your mind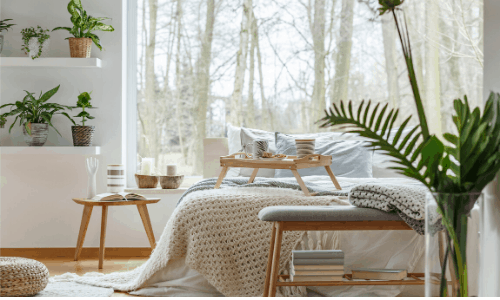 The negative energy of mess, dirt and confusion can contaminate your life in many levels. 
It attracts more mess and misunderstandings, it's just negative energy filling the space in which you live. 
Conversely, calmness and peace will flow in your house when every time you open your pantry things don't fall out, when you can easily find what you're looking for and when you can sit to relax at the end of the day in a clean and neat living room. 
Another important mental reason for keeping your bedroom clean, for example is to be doing it so in order to assure that your sleep will be better, that your body will get all the deserved rest it needs and your mind will be relaxed. 
Psychology of cleaning is a fascinating subject. By understanding how our minds work, changing habits can become possible. As anything else in life, the more we get to know ourselves the easier and more pleasant life becomes.
Related: How to add good vibes to your bedroom using Feng Shui 
Regardless of the end results of cleaning, one of the reasons why some women love to clean is because the act of cleaning can increase endorphins, which are the feel-good chemicals in our brain. 
When endorphins are up, we get a sense of reduced stress and anxiety, and an improvement of mood. It seems that even 20 minutes a week of household cleaning reduces feelings of stress and reduces the risk of psychological difficulties. 
7- The whole family will get used to the neat surroundings and your children will carry this lesson through their lives
Being organized and keeping things in order is a skill that will help your kids forever in anything they want to do. For kids, behavior examples, are the best start for good habits and discipline to be developed overtime without too much stress. 
Some studies, like this one "Household chaos links with parenting and child behaviour" by Coldwell J1, Pike A, Dunn J clearly showed that "household chaos is predictive of children's problem behaviour over and above parenting." 
The effects of clutter and confusion where you live can become psychologically-damaging (e.g., Matheny, Wachs, Ludwig, & Phillips, 1995). 
Organized spaces, clear of clutter create a safer environment for kids. 
Related: How to keep your house clean when you have kids 
8- Good energy will be always flowing in the space
This is one of the best reasons to keep your house clean and organized. If you're a Feng Shui follower you know how much you can create good energy flowing through your house with your design. 
There are many easy Feng Shui tips that will help your home to become a healthy and happy place. A clean house, free of clutter won't have stagnant energy interfering in the family life and the vibes of wealth, abundance and prosperity will be always present. 
Related: How to Feng shui your wallet to attract wealth and abundance 
9- The act of cleaning the house leads automatically to the need to declutter
As you spend time cleaning the space where you live you will also feel in control of what you own and use that can lead to the ultimate decision of decluttering your home. 
In this time of extravagant consumerism and social competition, keeping an eye of what possessions are really important for you is key to avoid unnecessary spending habits. 
The less you own, the easier to store and maintain your place clean and organized. It's an important lesson for kids as well, who are more vulnerable to what social media and aggressive marketing are always trying to sell. 
Decluttering has become a habit that many families are now embracing and the benefits are numerous: from valuing what you own and being mindful of what you really need, to opening mental space, an declutter house makes life easier and better.
Related: Complete Guide to declutter your home, step by step tips to organize your life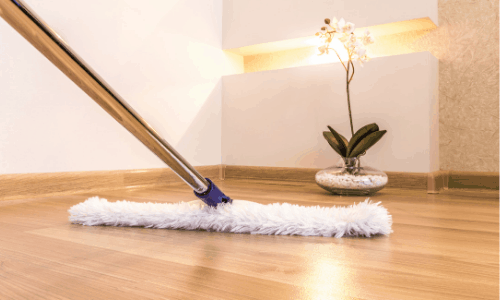 10- Your family routines will become more functional
When everybody knows where to find things and to put them back in its place you won't become the central source of information for where things are. No more: "mom where is this, where is that?" 
And the truth is that, for you, as the main housekeeper (probably), less confusion and noise happening during the family dynamics at home, will make all your tasks easier and more functional. An organized home is a stress reducer that will affect the mental health of everyone in the household. 
Related: How to clean the house when you don't feel like it 

11- The end result of your cleaning habit becomes a reflection of who you are
If you're sure your space is messy and cluttered, for example, it's difficult not to internalize this believe. People are less likely to take care of their environment when they don't feel good about themselves. And the more chaotic their environment becomes, the worse they feel about themselves." 
It's also a reflection of how you can take care of yourself . And this tells a lot about where you're in your life. It goes beyond the act of  boosting your motivation to clean your house. 
If you are having difficulties in one area of your life, you're more likely to be showing do that everywhere. 
We wake up, we produce waste and laundry and dust and mess. This is how real life looks like. If we avoid perceiving this scenario as reality, the message might be that we're not really facing OUR OWN LIFE. 
The moment we decide to face what is uncomfortable, we'll begin to feel fulfilled and accomplished. 
Wrapping it up
Cleaning, organizing and maintaining a nice and tidy house is not an easy task. Most people will qualify as one of the most boring duties of their life. 
The only way to deal with your negative feelings about cleaning is to understand what is the Psychology behind the cleaning process and how are minds work. And to accept that many times building new habits is not easy even when we're deeply invested on this goal. 
There will always be social pressure to instantly become the perfect household keeper and we're inundated with ideas and secret tips every day through social media. Sometimes it seems so easy and so doable. 
The truth is that we have to stop feeling bad about our cleaning habits but at the same time look for ways to make life easier, healthier and happier, by getting to know how our minds work. 
Keeping our places nice and neat should not be an ordeal but a normal task to be executed with good disposition. Being healthy and able to function in a way that taking care of life duties is just a blessing and not a curse, it's what we all should aim for.